Memory Jar
From Giftypedia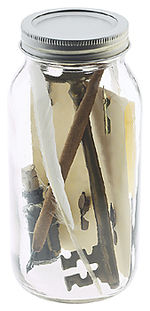 Who is it For
This gift is a very thoughtful homemade gift that is perfect for just about anyone. It makes a great gift for a spouse, grandparent, girlfriend or boyfriend, friends, and even teachers. It is ideal for birthdays, anniversaries, romantic occasions, holiday souvenir, or even as a condolence gift.
What to Do
Supplies Needed:
A Canning Jar
Paper & Pen/Paper & Printer
Ribbon
Scissors
Decorative Fabric
Take the paper, either handwrite or type and print your favorite memories, sentimental or inspirational quotes. Typically enough slips are made for a certain time period, like everyday for a month, one for each week, or if you are real ambitious one for each day of a year. Then cut out each message with craft scissors, then roll, fold, or use your origami skills for each paper slip.
Put all the slips in the jar. You can also add a special touch to the jar by adding things that remind you of the person, like their favorite candy, a photo, or erasers and paper clips if it is for a teacher. You could also make a themed jar for a specific holiday, or occasion, like tinsel or snowflakes for Christmas, or sand and seashells for a reminder of that beach vacation. The options are endless just be creative.
Once you have all the contents added inside the jar, take the decorative fabric that is just slightly larger than the lid, so when the lid is attached the fabric will hang below the lid.
Take the paper and make a note instructing them to pull out a slip each day, or each week, then tie the instructions to the jar with pretty ribbon. You can be even more creative by attaching special touches to the outside of the jar with the ribbon, like a rattle or pacifiers for a new mom, or flowers and mini wedding bells for the bride-to-be. This gift will be sure to leave a lasting memory.
Tip: If you want to add a few quotations from famous authors, try Thinkexist.com, they have some great romantic, and inspirational quotes.
More Do It Yourself Gifts