Tips for Giving Flowers as a Gift
From Giftypedia
The gift of flowers could easily be traced back to the beginning of time. In different cultures flowers can have different meanings. In Ancient Greece flowers were very special in the belief they belonged to the Gods. Today, flowers are given for much more than expressing ones love and admiration. Giving flowers as a gift can create different emotions in the recipient. Flowers can boost a person's mood, put a smile on their face or even make them cry with joy of your thoughtfulness.
Flowers can be given for housewarming gifts, as a host or hostess gift, for a birthday or a Valentine's Day gift. According to AboutFlowers.com, [1] flowers are one of the most frequent gifts given to say "I Love You" and when you need to say "I'm Sorry." Flowers can be given for almost every occasion.
With the vast variety of flowers and plants knowing what to give isn't always easy. Flowers have different meanings depending on the type, color and sometimes the amount given. Here you will find a few tips and guidelines on giving flowers as a gift.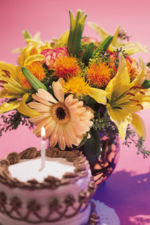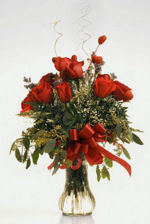 Tip #1
Consider the likes and dislikes of the recipient. Would they like a bouquet of flowers or an arrangement? Do they have a favorite type of flower? Do they like flowering plants or a plant they can later transfer to their garden?
Tip #2
The colors of flowers have different meanings so consider the message you want to express when choosing the color of the flower. Also keep in mind the recipients culture, gift giving customs vary greatly between all cultures. Make sure you know the customs so you can avoid giving flowers that could possibly offend the recipient. Internationally, in Sweden and Poland, there is an old European tradition that bouquets of flowers should be given in odd numbers, and in many other countries, certain types and colors of flowers signify death and are never given as gifts. As an example, carnations, lilies and all white flowers are considered taboo for Norwegians and the Dutch.
Tip #3
Different types of flowers have different meanings. Again, consider the message you want to send with the flowers.
Tip #4
Be spontaneous and mix it up. If you always give flowers on certain occasions, try giving something different each time. With the wide variety of flowers and plants available you should never run out of choices.And remember, sometimes the best reason to give flowers is for no reason at all.
Tip #5
Take the Society of American Florists Floral Signature Quiz to learn the recipients floral signature to help in choosing a floral gift just for them.

What about sending flowers as a gift to a man? Believe it or not some men like to get flowers as a gift and if done with a little creativity and thought almost any man will enjoy receiving a colorful bouquet every once in a while. Here's some tips to help in selecting the perfect floral gift for a man.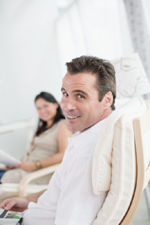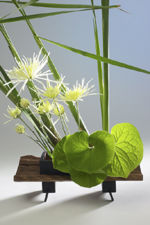 Tip #1
Think about when he typically sends flowers. If he sends them for birthdays, to say I'm Sorry, or for no reason at all, then most likely that is when he would like to receive flowers.
Tip #2
Think about the type of man you will be sending the flowers. Most men like practical gifts so why not put the arrangement in something he can use later. A coffee mug or a pencil cup are just a couple of ideas. Also consider a green or flowering plant.
Tip #3
Does he have any hobbies? Try to work it in the arrangement. For example, if he is a golfer add some golf balls, or if he is into music, add a CD.
Tip #4
Think more contemporary styles when choosing the arrangement and go for bright vibrant colors.
Tip #5
Don't forget you can always ask for help. Tell the florist this is a gift for a man and they're sure to have some good suggestions.
For more tips on giving flowers as a gift, ProFlowers.com has put together a Floral Advice Guide, which is a great resource for more in-depth advice on a range of flower topics including How to Choose A Flower Vase and How Many Roses to Give on Valentine's Day.
Related Guides
References