Push Presents
From Giftypedia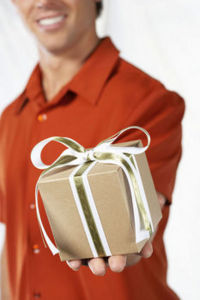 What Are Push Presents?
Push Presents have been around for some time, they date back in many cultures for thousands of years. Basically they are gifts that the new dad presents to the woman shortly after giving birth. Whatever name they are called Push Present, Push Prize, Baby Bauble, Baby Mama Gifts, these gifts are just for mommy, they are a way to acknowledge the trials of pregnancy and childbirth. There has been some controversy over "Push Presents", as some people see them as a retail marketing ploy, or mothers being materialistic.
Should You Give A Push Present
New dads that want to be thoughtful and desire to present mom with a "Push Present" should, but a new mom should not be "pushy" and expect to receive a gift. This gift is intended to be very personal, the price should not be a factor. The price should be dependent on the amount the dad wants to spend, a new mom should not persuade dad into buying a high ticket gift if it is not within the family budget.
What Should You Buy
The trendy Push Present is jewelry, but not just ordinary jewelry, it should be sentimental or personal. Photo jewelry is a beautiful way for mom to carry a picture of her new baby anywhere she goes. Check out the Photo Tile Jewelry from Elemental Memories they offer hip pieces that any mom will adore. Charms for necklaces or bracelets are another sentimental option, be creative mix-and-match charms, such as baby booties, birth stones, lockets, initials, or the babies name. MamaBebe.com offers some really nice personalized name charms or RedEnvelope.comhas some beautiful lockets, and birthstone jewelry.
Give her a day at the spa to be pampered, relax, and rejuvenated. If you know her favorite spa then you can buy her a gift card for all her favorite services. If she does not frequent a spa then check out SpaFinder.com where you can locate a local spas, then purchase a spa gift. Spa Finder also offers add-ons to make your gift special, like a cosmetic case, or chocolates. When presenting this gift make sure you tell mom that you will be on baby duty while she enjoys her day at the spa.
Be creative and economical, create her a coupon book. You can find printable coupons online, or new dads can use their artistic skills to create personal masterpiece that she will treasure. The coupons should be redeemable for thoughtful or practical ways to help out the new mom. Possible coupons could be: breakfast in bed, household chores, making dinner, running errands, full-day and night of diaper/feeding duties, bubble bath and massage. The options for coupons are endless, just make them thoughtful and redeemable when ever she chooses. Need some help check out our Personalized Coupon Book page for some ideas.
Did You Know?
In the Krakow, Poland during the early 1600s that bagels were given as a gift to women in childbirth[1] making them one of the earliest known Push Presents.
Related Guides
References