Military Training Graduation
From Giftypedia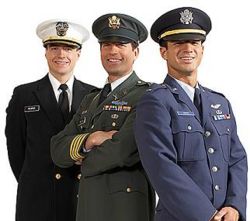 A Military Graduation is a very special event for both the graduate, their family and friends. Many are continuing a long family tradition of military service.
The graduate has worked very hard to get to this point in their life. From Graduation Day forward, they are representing their service and their country.
Be proud of them!
[edit]
Types of Military Graduation
There are different types and levels of military graduation.
Basic Training - Also known as "boot camp." An introduction to military life. Designed to turn civilians into soldiers.
Military Academy - A collegiate or post-collegiate institution where students, know as Cadets, receive a Bachelor of Science degree, and most are commissioned as second lieutenants upon graduation.
Military Commission - Officer Candidate School (OCS) run by the armed forces to train its own military officers.
[edit]
Basic Training Graduation Gifts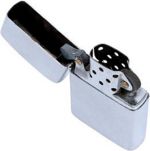 After graduation they may ship out more specialized training, know as Advanced Individual Training, or AIT. They may not have a chance to come home on leave. This limits the types of graduation gifts they are able to receive if they are going to live in the baracks. In these instances, military insignia items such as t-shirts or caps are easy items to take along with them. Check out the base gift shop.
Personalized gifts such as a license plate or photo throw can be customized with their name and service.
Show your pride their achievement in a humorous way with a personalized military cartoon portrait. These also make a funny Welcome Home gift. [1]
An old fashioned lighter is a traditional military graduation gift. They can be purchased with service insignia or engraved with a special message.
[edit]
Military Service Academy Graduation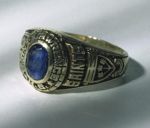 Many gifts for the military can be customized with the insignia of their branch of service. These items can often be personalized with engraving or a photo.
Other possible gifts include a service branch signet ring, bracelet, wrist watch, tie tac, or custom throw.
A classic wind-proof lighter can be customized with their branch of service crest or engraving. These lighters have been carried into combat since WWII.
Cigar accessories such as a special lighter or cigar carrying case.
Medallions can be found with the military branch on one side and an appropriate saint on the reverse.
[edit]
Military Commissioned Officer Graduation
For a unique military keepsake, choose a gift that relates to their branch of service. For instance, for a Naval officer, look for a nautical related item such as a compass or sextant.
Engraved silver or gold pocket watch with their service branch insignia. There is one style of watch that has a secret compartment that holds a picture disk, effectively turning the watch into a locket. [2]
Executive style cigar accessories such as cigar cases, cigar cutters, a special cigar lighter, humidors (you can even find one in camouflage), or a set that includes a cigar accessory and a flask. [3]
A portrait for their office.
[edit]
Military Graduation Ceremony Tips
Before attending the graduation ceremony, be sure to get specific information regarding security restrictions.
All drivers and passengers are subject to identification checks and vehicles may be searched.
Plan on arriving for the ceremony as early as possible to avoid delays.
Most military graduation ceremonies are outdoors. Dress for the weather.
You may be seated for a long period of time on metal bleachers. Bring something to sit on.
Bring binoculars or a camera with a zoom so you can locate your soldier or your loved one in the crowd.
[edit]
Related Guides
[edit]
References