Edible Fruit Bouquet
From Giftypedia
Who is it For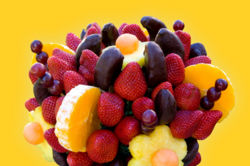 If you are looking for an alternative to giving candy or a bouquet of flowers as a gift, then why not create a fruit bouquet. An edible fruit arrangement is a beautiful bouquet of fresh-cut delicious fruits, and is a great gift that is not only beautiful, but is also healthy. Making a homemade edible fruit arrangement is a great gift for just about any holiday or occasion. Edible fruit bouquets make great centrepieces for wedding showers, baby showers, summertime celebrations, and birthday parties.
What to Do
Select an appropriate size container for your arrangement. Fruit bouquets can be arranged in different types of containers, such as coffee mugs, baskets, ceramic floral containers, planters, beach pails or watering cans. You can even select a container that is themed to the holiday or occasion. Most local grocers or Farmer's Markets, will have a nice variety of fruits to choose from. When selecting your fruits, choose a variety of colors and fruits that are in season.
Supplies
Directions

Variety of Fresh Fruits
Head of Green Leaf Lettuce
Large Container to hold fruit
Florist Foam
Wood Skewers
Toothpicks
Sharp Knives in different sizes
Cutting Board
Scissors
Melon Baller
Flower-shaped Cookie Cutter- for cutting fruit into flower shapes. You can also use different shapes if desired.
Ribbon/Bow
Cellophane Wrap or Basket Bag- this can be found at most craft stores.
Dipping Chocolate (Optional)
Microwave-Safe Bowl (Optional)

Cut fruit into desired shapes.

Arrange fruit on skewers.

Cut floral foam to fit inside your container. Place lettuce leaves onto floral foam and secure them with toothpicks this will hide the foam. Place the lettuce-covered floral foam into the container.

Arrange fruit skewers by inserting the ends of the wood skewers into the florist foam.

Cover the entire fruit arrangement with cellophane wrap and attach your bow or ribbon. If you are using it as a centrepiece you can skip this step.

Store the finished bouquet in the refrigerator until it is time to give it to the gift recipient or display on the table.
Tips on Creating a Fruit Arrangement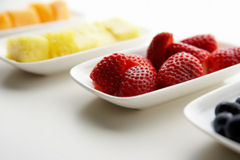 The best fruit to use to make your arrangement are grapes, strawberries, pineapples, melons, and mandarin orange pieces. Bananas and apples are prone to browning quickly, they will need to be dipped in chocolate if used within a fruit bouquet. Another fruit that is delicious dipped in chocolate are strawberries.
To create the fruit cut-outs slice the fruit into 1-inch slice. Press the cookie cutter into each slice. Some fruits are easier to cut with the cookie cutters, pineapple is a fibrous fruit so you will need to push firmly to make a cut all the way through.
To make the fruit-shaped flowers, press a flower-shaped cookie cutter into each slice. Then, use a melon baller to scoop a ball from your choice of melon. Then, you can either use then entire melon ball or slice the ball in half. Place the melon ball onto your flower-shaped fruit slice, and insert a skewer completely through the fruit slice and into the melon ball about halfway. Red cherries are another great fruit to use as the center of the fruit flowers. Use pineapples, cantaloupes and honeydew melons to create your flowers. To make heart-shaped fruit, use a heart cookie cutter and a good fruit to use is watermelon.
Cut some of the skewers in half with scissors, to create half-sized skewers. Place strawberries, grapes, and melon balls onto half-sized skewers to help fill out the bouquet. You can also use the leaf lettuce to fill-in any spaces in your arrangement.
To dip some of the fruits in chocolate, you need to melt the chocolate in the microwave. Dip the fruit into the melted chocolate and put it on a wax paper to cool and harden. Once the fruit has hardened it can be placed onto the wooden skewers.
Related Guides