Scented Sachets
From Giftypedia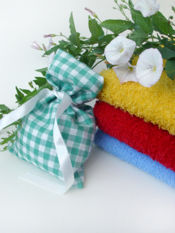 The homemade scented sachet is a fun and easy craft project that can be enjoyed by everyone. This fragrant DIY gift idea would be great for bridal shower party favors, added to the bath and body gift basket you created for a friend who needs cheering up, or even as a little something special to dress up your gift wrapping on the birthday gift for your aunt. Scented sachets can be personalized to match your recipients taste or even the season, so this do it yourself gift idea can be given for many occasions and holidays.
Scented sachets have many uses. They can be put in drawers and closets to keep clothes smelling fresh, or a bowl with the fragrant sachets on the bathroom counter to give a wonderful scent and a decorative touch. A fragrant sachet can be put in cars, gym bags, or even the locker at school to give a fresh scent almost anywhere.
The benefits of homemade scented sachets as a gift is that you can create your own special scents and at a much lower cost than if you bought them at the store.
Supplies
Narrow Ribbons
Fabric Chalks
Fabric-marking Pens
Fabrics
Potpourri, Essential oils,
or other materials depending on scent
Directions
Make your scent
Measure and cut your fabric to size
Sewing: cut a strip of fabric 5" wide and 12" long
Fold it over to make a 5"x6" pouch and sew up the side seams
Turn inside out
Fill with potpourri or your scent mixture
Gather the top and tie with ribbon
Scents
store bought or make your own
Cinnamon, Nutmeg, and Cloves
Cinnamon sticks, whole nutmeg, and whole cloves
Lavender Buds
Ultra Fine Aromatic Red Cedar
Rosemary
Cinnamon
Herb Scented Bath Teas
Cherries, Vanilla, and Cinnamon
dried cherries, dried vanilla beans, and cinnamon sticks
pumpkin, cloves, and nutmeg
Tips
Create your own scent using pine shavings and essential oils.
You can purchase pre-made drawstring bags.
Use essential oils to refresh or enhance scent.
Sachets can be hand sewn, machine sewn, or just gather material together and tie with a decorative ribbon.
You can make a ball type sachet by cutting fabric in a circle then gather edges and tie with ribbon.
Add a layer of lace or sheer fabric on the outside for decoration.
You can use charms, vintage jewelry, fabric paint to embellish your sachet.
Make a hanging loop in the closure ribbon on some sachets so they can also be hung.
Make the sachets in different shapes like hearts for Valentine's Day.
Related Articles