Sun Tea Jar
From Giftypedia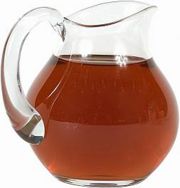 What is Sun Tea?
Sun Tea, also known as Desert Tea, is an eco-friendly method of brewing tea using the heat of the sun. The tea is steeped in water that has been placed in the sunlight to bring out the flavor of the tea. It takes several hours for the tea to steep, so this is an ideal method for making tea for picnics, while camping or at the beach. It is an inexpensive way to brew tea since it doesn't use any fuel to heat the water.
A Sun Tea Jar makes a nice green gift for anyone that is eco-conscious, thrifty, or just likes being outside.
How to Make a Sun Tea Jar Gift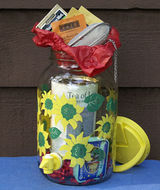 Carefully consider the type of container you use to create your sun tea jar. The classic tea jar is a beverage jug that includes a pour spout and lid with a handle. The ideal jug or jar should be glass.
You can be creative (and resourceful) and include other containers, such as a plastic or lucite pitcher, large glass jar, clamp/lock lid jar, cocktail shaker or mason jar. Thrift, charity or second-hand stores are great source for inexpensive, reusable containers for an earth-friendly gift.
To add a personal touch, you can paint the container with food-safe paint, wrap the jar in fabric and ribbons, or tie a bandanna or kitchen towel around it.
You can create a hand-crafted gift basket style to your gift by adding something extra, such as their favorite brand of tea, small boxes of sweets or cookies, teaspoons, honey straws, or some type of tea brewing accessory such as a tea ball. A long handled spoon would make a nice addition and can be placed inside or tied to the outside of the jar.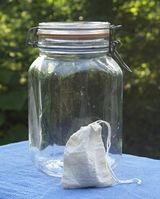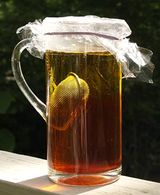 Recipe for Sun Tea
1 gallon cold water
9 standard size tea bags
3 standard size bags orange-and-spice tea bags
Put bags in jar, cover jar with lid, and put in the sun for 3-4 hours
Basic Instructions
Before using, wash jar in warm soapy water or rinse with a mild bleach solution.
Fill jar with fresh water.
Place teabags into the water so that the paper tags are hanging out, or remover the tags.
If using loose tea, use a tea ball or other infuser.
For large quantities of loose tea, try a muslin bag.
Place your sun tea jar in a location where it will get plenty of direct sunlight.
Place prepared tea in the refrigerator as soon as it is ready.
Tips
Use a small jar on the windowsill for a glass of tea at work. Clear, hard plastic works well.
If missing a lid, cover the container with plastic wrap using a rubber band.
You can also make tea in the refrigerator. Leave the jar with tea in the fridge for 6 hours or overnight.

Works in hot weather even when not in the sun.

For smaller containers, use fewer tea bags.

For stronger tea, leave in the sun longer or bring the jar inside and let it continue to steep.
Precautions
Always wash the container thoroughly after each use.

If the container has a spigot, clean it carefully after each use.

Do not leave outside for more than 4 hours.

Do not prepare more tea than you can drink in one day.

Discard tea if it appears thick or syrupy. [1]

Related Guides
References