Alternative Baby Showers
From Giftypedia
Traditionally baby showers involved pink and blue decorations, only female guests, and celebrations only for the first pregnancy. With changing times comes changes in the way we celebrate occasions, including the way we welcome the arrival of a new baby. Baby showers can be as original as the mom-to-be and non-traditional baby showers have become popular. These celebrations can involve alternative baby shower themes, locations, guests, and ceremonies.
Alternative Baby Shower Themes
Mother's Blessing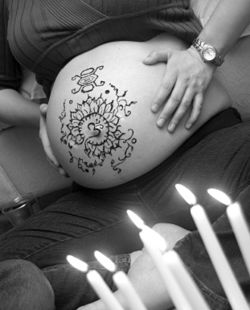 The Mother Blessing or sometimes called Blessingway Ceremony is not the typical baby shower, which focuses on the new baby, this is a celebration to honor the mother-to-be. This is a celebration to encourage and support the the mother-to-be as she enters a special stage of her life "motherhood". The Mother's Blessing has origins rooted from the Native American "blessingway" ceremonies, these ceremonies involved singing by trained "medicine men".
The "blessingway" ceremony is a traditional healing custom among the Navjo people, they do not approve of the use of this term, this is how the term Mothers Blessing evolved. This celebration is very spiritual, and can be modified to add elements of the personal beliefs of the mommy-to-be. If you are planning a Mother's Blessing here are a few ideas for activities....
Belly Casting
Candle Lighting
Blessings, Poems, Prayers
Belly Painting
Foot Washing and Hair Grooming
Birthing Necklace
Wrist Binding
For more help on planning the perfect Mother Blessing visit Blessingway – What Is A Blessingway? or Tired Of Baby Showers? Try A Blessingway Ceremony.
Online Baby Shower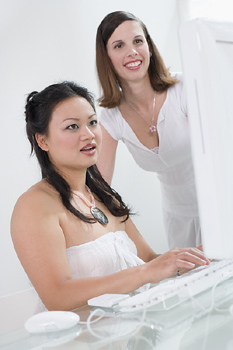 In today's world almost anything can be done by computer, even a baby shower. The online baby shower, or sometimes called a virtual baby shower, or long distance baby is a great way for the parents-to-be to celebrate. The online baby shower is perfect when the guests may be spread all about the country, or the expectant mother has medical restrictions. Discuss with the mom and dad-to-be if an online baby shower would be a workable solution.
This alternative baby shower can be done in a chat room, or with the use of a web cam, or a site can be created that everyone visits where pictures can be posted, comments can be made and everyone can stay updated on the pregnancy progress and details of the birth. There are online baby shower services like Mommy Party or Web Baby Shower that make planning an online shower very easy.
Just like with a traditional baby shower, guests will receive invitations, they can access the gift registry to purchase gifts, play games, post messages on the message board, they can send attendees party favors, and send out instant birth announcements. This also might be a perfectly acceptable time to send a thank you note through email.
Sip and See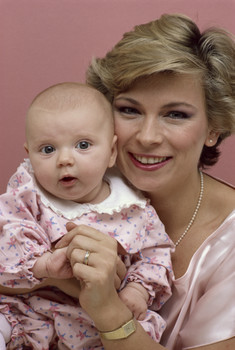 The Sip and See is an alternative to the traditional baby shower. This can be for already mommies, the baby shower for the second child, those who don't need anything and just want to show off their new baby to friends and family. This is also an event that men will probably not mind attending since it is not called a baby shower and their are no games that will be played.
Sip and See tells you exactly what happens at this event. You invite friends to come and enjoy a beverage and see the baby. This is typically held a month after the baby is born and a friend or relative can host the event. Make sure to have a place for your guests to wash their hands as the baby will probably be picked up and touched frequently.
Typically, a Sip and See is an open house where your guests can come and go during a specific time. There is very little decorating and the menu is kept light. The entire event should be kept informal.
You can give favors at this event and it is best to have some on hand. Even though gifts are not required at this event, there will be those who bring one. You will also want to have some type of favor to say thank you to the guests for coming to see your new bundle of joy.
Related Guides