Sympathy and Condolence Gifts
From Giftypedia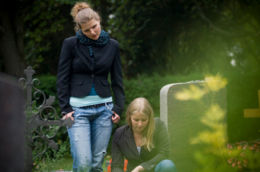 A condolence gift or sympathy gift can be one of the hardest types of gifts to choose. Many times you don't know what to say or how to comfort someone, much less trying to express your thoughts and emotions with a gift. Whether it be the loss of someone close or dealing with an illness, sometimes small gestures or a gift can speak more than words.
A sympathy gift should express that you are thinking of them and not impose on their time of grief. Considerations should also be made for cultural differences. Below you will also find some tips on cultural condolences.
Remember that a gift from the heart is the best gift of all.
Common Condolence and Sympathy Gifts

Typical condolence gifts are inspirational, or religious, in nature or help to capture the memory of the person who has passed. Below, is a list of commonly given gifts...

Plant a memorial tree
Flowers or a plant
Remembrance Frame
Angel painting or figurine
Inspirational jewelry
Book of poems
Memory Box
A photo collage
Memorial garden stepping stone or bench
A gift basket
Inspirational book
Framed inspirational quotes
A memorial candleholder
A windchime
An angel figurine
A memorial throw blanket
Money or donation to charity

Other ways to show your support are usually appreciated and can range from preparing meals, running errands, or any type of practical assistance to help them through this trying time.

 

Cultural Condolence Etiquette

Understanding the rituals and customs of a country's culture will help you to appropriately express your condolences. Here are a few tips on cultural condolences...

Japanese

People attending Japanese funerals bring a gift of money in a special black and silver decorated envelope. Traditionally people give used money, rather than new money.

Buddhist

Flowers or donations to the family are appropriate. Gifts of food are not appropriate.

Jewish

Gifts of food are appropriate during Shivah. The food should be kosher if the family keeps kosher. Charitable donations are also appropriate gifts. Floral gifts are inappropriate.

Hindu

Traditionally, a condolence gift of fruit is given to the family.

Protestant

Expressions of sympathy can be a note of condolence, flowers, meals for the family, or a donation to the church or favorite charity.

Catholic

Floral arrangements or donations to masses in memory are appropriate condolences gifts.
Tips for Giving Sympathy Flowers
Sending sympathy flowers is a an accepted custom in many traditions, unless the family has requested that memorial gifts be sent in lieu of flowers.
Meaning of Sympathy Flowers
Lilies are one of the most common funeral flowers and are a symbol of the innocence that has been restored to the soul of the departed. White stargazer lilies symbolize sympathy and any type of white lily expresses majesty and purity.
Carnations are a very popular flower used in sympathy arrangements, carnations come in a variety of colors that have different meanings. Light red carnations express admiration while a pink carnation represent remembrance.
Chrysanthemums, also known as mums, are used in funeral flower arrangements. Chrysanthemums are used in funeral arrangements in several different cultures especially in some European countries, Korea, and Japan.
Gladiolus are a classic flower that is included in funeral flower sprays. The gladiolus expresses remembrance, strength and moral integrity.
Roses are popular flowers used in several types of funeral arrangements. Roses come in a variety of colors that have different meanings. White roses express humility, innocence, and reverence; while red roses symbolize respect, courage and love; an peach roses express gratitude, appreciation, and sympathy.
Types of Sympathy Flower Arrangements
Vase Arrangements are appropriate for delivery to the bereaved residence or place of employment.
Funeral Flower Sprays are delivered to the funeral home. These types of arrangements may be ordered with a variety of flowers and themes, and are presented on an easel during the service.
Green and Blooming Plants can be sent to the funeral home, the residence, or place of employment.
Sympathy Gift Baskets containing an assortment of flowers, plants, kosher, gourmet or speciality foods should be delivered to the residence or place of employment. These types of baskets are not usually delivered to the funeral home.
Additional Tips
Unless the notice in the newspaper states that flowers are not to be sent, friends and relatives may consider it obligatory to send flowers.
When calling the florist to send flowers to a funeral home, it is best to have the name and zipcode of the funeral home.
When ordering flowers, ask the florist to write the formal form of your name along with your complete address on the enclosure card.
Do not send fruit and gourmet food baskets to a funeral home, since most funeral homes cannot accept food.
Related Links