Get Rid of Junk Mail
From Giftypedia
[edit]
Who is it For?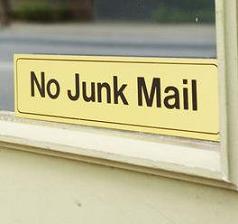 Great gift for seniors, caregivers, or anyone tired of sorting through all that junk mail. Offer to do this for someone that is not computer-savvy and save the trees.
[edit]
Quick Tips
Let the recipient choose which lists or items they would like to opt out from and which to keep.
Some sites have a list of the catalog titles that you can decline. If it isn't too long, you may want to print the list and have them circle the ones they'd like to keep, or help them go though what they have and decide what to continue receiving.
You may not be able to get rid of every piece of junk mail, but you can cut it down significantly.
[edit]
Where to Go to Get Rid of the Junk Mail
Catalog Choice.com will help you get rid of unwanted catalogs. Catalog Choice is a free service whose objective is to reduce the number of unwanted catalogs sent to American consumers. This also saves marketing costs for merchants.
OptOut PreScreen.com will help you opt out of preapproved credit card offers online or by calling 1-888-5-OPTOUT (1-888-567-8688) to have your name removed from direct marketing lists. This also includes insurance offers.
To be a super-duper friend, offer to place them on the National Do Not Call Registry. You can opt out by phone but you must call from the number you want to get opted out, or you can opt out online at Do Not Call.gov. To opt out online you must provide an email address for verification. You can register your home or mobile phone for free.
US Search Profile Opt Out lets you opt out of information culled from non-public record sources like magazine subscriptions. Subscription information is often available for sale to other vendors. (Ever notice how, when you subscribe to one magazine or buy something online that all of a sudden you are swamped with other offers or catalogs?) You must contact them with a signed request by mail with the following information - full name, e-mail address, mailing address, social security number, date of birth, past addresses and aliases to:
US SEARCH
Opt-Out Program
600 Corporate Pointe, Suite 220
Culver City, CA 90230
Another tip; junk mail makes good compost. Shred the non-shiny stuff and let it rot. If you can't get rid of it, use it!
[edit]
More Do It Yourself Gifts
[edit]
Related Guides