History of National Grandparent's Day
From Giftypedia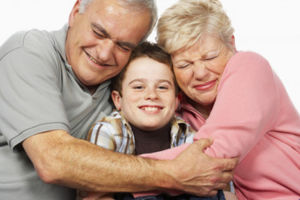 The history of Grandparent's Day starts with a West Virginia housewife, Marian Lucille Herndon McQuade. In 1970, she started the campaign to have a day to celebrate our grandparents. By 1973, the first Grandparent's Day was proclaimed by West Virginia Governor Arch Moore and it was also introduced to the United States Senate. Unfortunately, it lost its power and McQuade and her team turned to the media to increase awareness. They also wrote letters to many interested in senior citizens. Finally, in 1978 congress passed legislation proclaiming the Sunday after Labor Day as National Grandparent's Day. Since that time Grandparent's Day has been celebrated by millions all across the United States.
Grandparent's Day is celebrated in Canada on the second Sunday in September. It began in 1995 with motion number 273 that read, "That, in the opinion of this House, the government should consider designating the second Sunday in September of each year as grandparents day in order to acknowledge their importance to the structure of the family in the nurturing, upbringing and education of children." [1]
National Grandparent's Day Facts

The month of September was chosen to signify the "autumn years" of life.
The official flower of Grandparent's Day is the forget-me-not.
The official song of Grandparent's Day is "A Song for Grandma and Grandpa" by Johnny Prill.
Memories of our Grandparent's
It's always exciting to go Grandma or Grandpa's house. Beside the fact that many grandparent's spoil their grandchildren the memories that are created with the times spent together will last a lifetime. Racing to the porch to be the first to sit on Grandpa's lap and guess which hand holds the special prize just for you and getting that wonderful hug from Grandma that smothers you with the smell of her perfume. All memories that will stay with you forever.
Celebrating National Grandparent's Day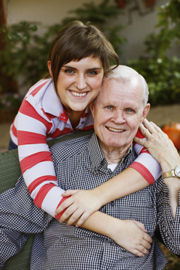 Honor your Grandparent's with a gift of love and spend time together. Grandparents are full of strength and wisdom, and are the key to your family heritage. Creating a family tree is a way to learn where you came from and going through old photographs noting names and dates is a way to preserve your family history. Grandparent's love telling stories of what it was like growing up in the good ol' days and sharing these stories with their grandchildren is all part of the grandparent experience.
Grandparent's love to brag about their grandchildren. A gift that helps them show off their children's children with pictures, like in a collage or on a shirt would make for a special gift. Handmade gifts from the grandchild are the type of gifts that grandparents seem to love the most. No matter what the gift, a gift given with the love of a grandchild will be special.
Related Articles
References