Seashell Windchimes
From Giftypedia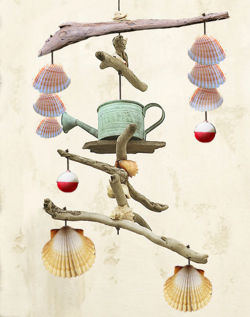 Thrifty
Homemade seashell windchimes are a great way to create a souvenir from your vacation by the water, and a thrifty way to make a summertime gift. It is easy to make, so even kids can make their own miniature seashell crafts.
Educational
Learn about the seashells you pick up. Are they freshwater or saltwater? Bi-valve, conch, gastropod? What is a sand dollar? How does a starfish eat? Where does a hermit crab[1] get its shell?
Fun
With some very simple supplies and a few parts you find on the beach, have around the house or pick up at the dollar store, anyone can make a seashell handicraft. Use your imagination and recycle popsicle sticks, plastic lids, a little string and "presto!" Your very own seashell windchime!
Making A Seashell Windchime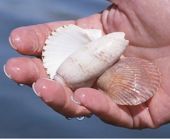 On the Beach - Picking Up Shells
Be sure it is okay to remove shells or other items from the beach. Check the rules before you start, especially if it is a protected area or a state park.
Bring a bucket or cup to pick up your flotsam and jetsom [2].
Make sure "no one's home" when collecting shells. You don't want anything in your collection to crawl away or get stinky on the ride home. Leave the live ones behind.
When choosing sand dollars[3] – only pick up the white ones, as this is the skeleton of a sand dollar that is no longer alive. Leave the dark ones on the beach.
Look for small pieces of driftwood, fishing bobbers or floats, sea glass, or other interesting pieces to add to your collection.
Things You'll Need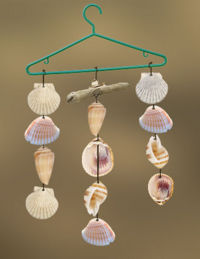 Seashells. Wash them off to get rid of any sand or debris.
Awl, nut pick, nail and hammer (if you want to make holes).
Coat hanger, driftwood, popsicle sticks, plastic can lid (to hang shells)
String, yarn or strong fishing line
Safe scissors
White glue or hot glue
Directions
Glue each shell to the end of a short piece of yarn. If you use liquid white glue, let it dry overnight.
If your shells already have holes, tie one end of a piece of string to the shell.
You can place multiple shells on one string by making a knot, then sliding another shell onto the string.
Tie your shells onto the coat hanger, stick or a piece of driftwood. You can also punch holes in a plastic coffee can lid and poke the string through the holes.
Tip - You can drill a hole in with a small screwdriver or nut pick. Be sure you have extra shells in case they break.
Other Ideas for Seashell Crafts
Use seashells to create candles.
Decorate pillar candles for a beach theme.
Glue shells onto a cardboard circle to create a wreath.
Attach shells to a small picture frame.
Glue shells together to create small animals for fridge magnets.
Create shell angel Christmas decorations.
Seashell night light.
Glue a shell onto each wooden napkin ring to create a set.
Related Guides
References