Salsa Regalo
From Giftypedia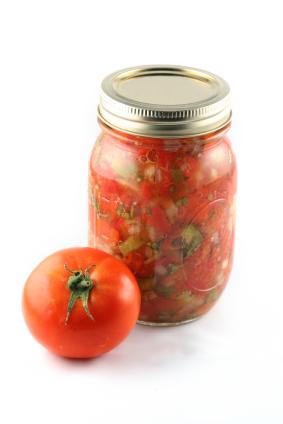 Who is it For
If you're looking for a simple, inexpensive do-it-yourself gift that everyone loves, this is your answer! Salsa Regalo literally means Salsa Gift. It's as easy as cutting up a few vegetables and putting the results in a jar. It's so much better than the salsa purchased from a store. And, once you wrap it up your jar with a ribbon, add a bag of chips, and place it all in a cute basket - voila! You have an instant gift! It's perfect for the "foodie" in your life, but this easy do-it-yourself gift can be handed out to all of your friends, neighbors, teachers - virtually anyone! The host or hostess of a Cinco de Mayo celebration or any fiesta-themed event will always appreciate this thoughtful present. During the holidays, the red and green colors of the tomatoes and cilantro add a festive feel as well.
What to Do
Start with a spare a mason jar and your favorite salsa recipe, or use the recipe provided below. Mason jars can usually be bought inexpensively at your local grocery store. Typically they're sold in bulk, which is great for this gift because you can make several at a time. Don't forget to pick up some ribbon, and tags or paper on which to provide the recipe.
Salsa Recipe
Tips

2 28 oz. Cans diced tomatoes (or 8-10 plum tomatoes, chopped)
4-6 Bunches green onions, chopped
1/2 Jar hot pepper rings, chopped
1/2 - 1 Tbs chopped fresh cilantro (according to taste)
1-2 Tbs juice from hot pepper rings (according to taste)
1 Tsp garlic powder
Makes approximately 8 cups

Everything is to taste!
Each batch comes out just a little different, and gets "hotter" as it sits.
Once you've made your salsa, spoon it into your Mason Jars.
Seal with the accompanying lids.
Wrap ribbon around the jar.
Don't forget to attach a tag with the recipe!
If you want to add to your Salsa Gift, find a cute basket at your local craft store and fill it with a jar of your salsa and a bag of chips.
Related Guides