Homeschool Graduation
From Giftypedia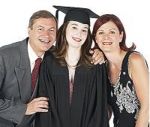 home·school: A school operated outside established educational institutions, especially in a home.
Parents make the decision to homeschool their children for a variety of reasons. There are a wide range of approaches, including individual study, group study or online courses. Students can graduate from high school and earn a diploma. Each state has different standards.
[edit]
The Homeschool Graduation Ceremony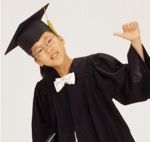 The Homeschool Graduation Ceremony can be at a home, at a church, for a single individual or with a group. It can be as casual or as formal as the the graduate or family prefers.
A graduation ceremony can be held at any stage of education. Whether it is celebrated every year or for the traditional divisional levels of education is totally up to the parents.
There are companies that specialize in graduation themed items for homeschooled children[1]. Invitations and announcements can be ordered in smaller quantities, and diplomas can be customized with the family's name in as the school. Embossers can be created to give the diploma or transcript documents an official seal. Graduates can create their own invitations for a very small gathering of friends and family.
[edit]
Gift Ideas for Homeschoolers
Homeschoolers can have different view on life and education and may appreciate different types of presents than other grads. They might be touched by a thoughtful graduation gift in a deeper way. Graduating homeschoolers deserve memorable gifts for their accomplishments.
[edit]
Gifts for Family
Jewelry with the year of their graduation is a classic gifts for both genders. Scripture gifts never become dated and can be crafted on wood, prints, or pen sets.
[edit]
Gifts for Friends
Remembrance gifts can be a great sentimental reminder of your friendship. Photos of you and the grad together can be used to make a friendship frame, on a shirt or mug. Vacation or trip images can be made into a calendar that includes special dates from the good times you had together. For teens, create an address book with their friend's email addresses and cell phone numbers to help you stay in touch.
[edit]
Gifts for Children of Friends
Homeschoolers need motivation to overcome daily distractions. A fun hands-on activity can be a great reward for their efforts. Activity kits or tickets to a local museum exhibit, aquarium or zoo can be both fun and educational.
[edit]
Related Guides
[edit]
References