Gift Giving for Life's Milestones
From Giftypedia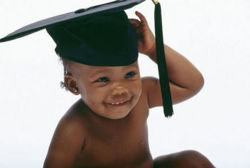 Milestone (mīl'stōn')
- noun
An important event, as in a person's career, the history of a nation, or the advancement of knowledge in a field; a turning point. A significant event in your life.
One of the best ways to acknowledge someone's major life event is by giving a milestone gift. The gift might express that you care, you are proud of their accomplishment or that your understand what they went through to get there. Milestone gifts can be motivational, or inspirational, and say Congratulations, You Did it! or Good Luck.
In a person's lifetime, milestones can be infrequent and they deserve to be celebrated. The events or occasions that would be considered a milestone is also dependent on the individual and their life situations. While, what might be just another event in life to one person may be a milestone for another. Recognize these milestones, no matter how big or small.
Below are some events that can be considered milestones and some helpful tips for choosing a gift for a major life event.
Graduations
College – For college graduation, a walk down memory lane would be a heartfelt gift. A scrapbook to remind them of where they have been with pictures and events of their life so far. In 20 years they will look at this book fondly and see where they were and where they are now, remembering who helped them along the way. An exciting or thrilling experience gift would help the graduate celebrate this monumental accomplishment.
High School – Inspirational gifts would be fitting for this graduation. Whether or not they are going off to college, they are starting a new chapter in their lives and need encouragement and inspiration for what lies ahead.
Kindergarten or Preschool - These graduations can be considered a transition to the 'Big School' of the future. Give them a keepsake that shows how proud you are of all their hard work or something they can use for the upcoming school year so that they will look for to being with the Big Kids.
Technical or Vocational School - The technical or vocational school graduate has worked hard for their chosen career path. They will need tools of their trade to start their new profession. Gift cards and money can give them a helpful start.
Military Training Graduation - Any type of Military Graduation is a huge day in the life of your soldier and your family. Celebrate their achievement with a military keepsake.
Career Milestones
Landing the Perfect Job or Starting a New Career
They have worked hard to get where they are and they finally find their dream job. This can be a life changing event for many and it needs to be recognized with a gift that says "I'm proud of you!" A personalized profession related gift for this special occasion would be appropriate. You can find many profession related gifts from legal themed bookends to business card cases and pen and pencil sets. Adding the personalization can make the gift even more special.
Retirement
The day has finally come, all their hard work has paid off. Now they can do all the things they wanted to do but never had time. Retirement gift ideas can be humorous in the type of a gag gift or they can be sentimental and thoughtful. Humorous gag gifts would be gifts relating to age, what they are going to do with their time, or spending money. On the more sentimental side would be gifts relating to their life's journey. Gifts like a personalized plaque with a thoughtful saying, a gift related to their profession, or a gift related to what they will be doing in their retirement.
Matrimony
Engagement
There is no doubt that getting engaged is one of the most exciting moments of someone's life; from picking out the ring, to "popping the question" and telling everyone the news. When a couple becomes engaged to be married is a joyous time in their lives, and most couples feel as though they want to shout the news from a rooftop. Newly engaged couples can announce the pending nuptials in many ways from phone calls, emails, newspaper announcements, to a wedding website or even by having an engagement party. If the happy couple's engagement announcement will be made at an engagement party, it is not required or will it be expected that you bring a gift, even if the celebration is a formally announced event. That being said, many guests will still choose to give an engagement party gift to honor the happy couple and express their congratulations.
Wedding
A wedding is definitely a turning point in the couples life. Most couples create a gift registry to aid in the selection of gifts. See our Guide to Choosing a Wedding Gift and Gift Giving Etiquette for Weddings for help with gift ideas for this life changing milestone.
Wedding Anniversaries
The 25th and 50th Wedding Anniversary are also milestones in a couple's life. By today's standards, to be married to the same person for that many years is an accomplishment that should be recognized. The 25th wedding anniversary is considered the Silver Anniversary and the 50th is considered the Gold Anniversary as listed on the Anniversary Table. The emerald which symbolizes love and fidelity is a popular jewelry gift for couples celebrating their anniversary.
Buying a New Home
A landmark event in anyone's life is moving into a new home, they want to share the moment with family and friends, and show off their new home. Whether the house in question is a first home or a new home for a growing family, this is a life event worthy of a gift. Many new homeowners choose to host a housewarming party, holding a housewarming party is a good way to welcome family and friends to your new abode.
Having a Baby and Adoption
The birth or adoption of a child can be a milestone in many peoples lives. You have the parents, the grandparents and siblings. While practical babykeepsake with the new baby's hand/foot prints, picture frames or photo albums to display and organize all the pictures that will be taken. Also, don't forget about the siblings. A shirt that lets them tell everyone they are the big sister or brother, a personalized picture frame for that first photo of the pair, or a scrapbook where they can, in their own way, document the event.
Birthdays and Coming Of Age Celebrations
Every birthday is special, but some are more significant than others. There are those special years of peoples lives that mark achievements that have been reached, some are steps toward adulthood and others are a time for remembrance of just how far a person has come. Though all birthdays are a time for celebration and gifts, milestone birthday celebrations are typically the ones that people remember for the rest of their life. Birthday gifts can range from items that reflect the recipient's interests, cash gifts, gifts themed toward the recipient's age or even gag gifts.
One major milestone birthday is the 50th Birthday, this birthday is usually gifted with gags, making fun of getting old and what you can and can't do like you used to. There are many gag gift ideas related to the 50th birthday like inflatable walkers, "special" hearing aids and glasses. There are gifts like t-shirts and signs that let the recipient proudly let announce that they are old. If you want to go the sentimental road, a gift basket with memorabilia from the year they were born or a book about their life would make a good gift idea.
Here are several milestone and coming of age celebrations that are worthy of a special gifts and celebrations:
Bat Mitzvah
18th Birthday
21st Birthday
Birthdays ending in "0" (30th, 40th, 50th, etc.)
Related Guides