Giving the Gift of Wine
From Giftypedia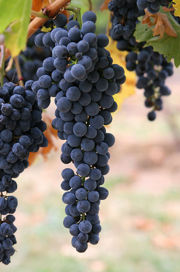 The ancient birthplace of this fermented spirit in all probability is Egypt and Persia. By 3000 B.C., both of these regions had developed simple and effective ways to make wine. The drink was attributed to Orisis, God of death and fertility in Egyptian mythology, and was served during funerary rituals. It's not surprising that the Persians also considered wine as a divine gift.[1] Perhaps this is when and where giving the gift of wine began.
Over thousands of years, the production of wine spread across the world. Wine became an increasingly popular gift for nearly every holiday and occasion. Today, the growing of wine has become a science in it's own right, and thousands of varieties are now available from countries across the globe. With this in mind, selecting just the right wine as a gift can be an intimidating task. By understanding a few basics, choosing a wine as a gift can be a fun and educational adventure.
Since ancient times, wine has always been an indispensable attribute of any celebration. The bottle of wine you select as a gift may not be a 7000 year old vintage, or one that is considered "divine", but giving the gift of wine will be received by your recipient with no less appreciation than our venerable ancestors. [2]
Basic Guidelines for Giving the Gift of Wine
Know the Recipient
Prior to purchasing any alcoholic beverage as a drink, make sure your recipient would welcome this as a gift. If they're a tee-totaller, chances are a bottle of wine would be inappropriate. If this is a close friend, take a look at what they have in stock in their home, or pay attention to what they may order when dining out. If your recipient is someone with whom you're not familiar, try to learn as much as you can about them prior to selecting the wine. In France giving the gift of a bottle of wine is not always a good idea. Typically, the host or hostess wants to pick the vintage for the dinner party or gathering. Keep this in mind when choosing to take a bottle of wine to someone who may be a wine connoisseur.
If you do know what type of wine they enjoy, try looking for something a little different, but within the same variety. A fun or different bottle, an amusing or interesting name, or even a unique label can often make your gift stand out. Consider purchasing a wine from a different country, or look for their favorite wine in a rare vintage for a certain hit. Today's couples often request a favorite wine or a collection of wines as a bridal shower gift or wedding gift, as well. Of course, a bottle of wine will almost always make the perfect hostess gift.
If the perfect bottle of wine can't be found, champagne is always an excellent option.
Price and Retailer
Know your price limit prior to beginning your search. There are excellent wines in all price ranges, and many stores will list their favorites in each price point. Additionally, a wine retailer who employs a good sommelier should be able to assist you while working with your price. Grocery stores, online retailers and liquor stores all carry a variety of wines, but a local wine shop can give you the most assistance when choosing a wine as a gift.
Wine Related Gifts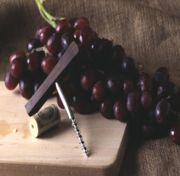 If you'd like to further impress your recipient, wine accessories make the perfect pairing for any gift of wine. Serious wine drinkers will appreciate a wine journal. Wine stoppers, wine charms, cheese and crackers, wine glasses, cork screws, wine racks, wine decanters, wine totes, and even wine signs can also be considered. A membership to a Wine of the Month Club, a wine tasting guide or even a wine tasting experience gift would be much appreciated by the novice wine connoisseur. For special occasions like anniversaries or birthdays, choosing a vintage wine from the year the couple was married or the year the recipient was born is a great way to personalize your wine gift.
Food Paring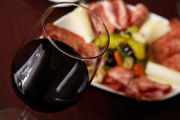 Today, food and wine pairing has become a subjective and inexact process. The old rules that paired red wine with red meat, and white wine with fish and poultry don't take into consideration today's multi-ethnic and subtly flavored foods or the wide range of wines from around the world that are now readily available. In today's Foodie circles, it's more common to hear pairing suggestions as opposed to hard and fast rules, which leaves considerable room for experimentation and expression of your own personality.[3]
Wine Ratings
Wine Spectator Ratings
95 – 100 highest rating, considered "classic" wines
90 – 94 outstanding wines
85 – 89 very good wines
80 – 84 good wines
70 – 79 average wines
60 – 69 below average wines
50 – 59 undrinkable wines
There are several rating scales in use and many wine sellers and auctions use a combination of these scales. A wine with a higher rating is normally more expensive than others, although this is not always the case. Rating scales are typically useful if you'd like to try a new wine and don't want an unpleasant surprise. The problem with wine rating systems is that the score of the wine depends on the actual person doing the rating. [4] You'll often see these numbers on restaurant wine lists and on wine websites. Again, keep in mind that these ratings are very subjective as everyone's palate is different. Wine Spectator is a highly regarded wine magazine and website which rates wines on a 100 point system. This rating system can be seen below.
Presenting Your Gift
Remember that presentation counts! When giving wine, you shouldn't just hand over the bottle. Choosing a nice wrapping will express the care that you put into choosing the wine. You may want to consider presenting the wine in a gift basket with gourmet cheeses, wine accessories, or chocolates.
Additional Considerations
Be careful when gifting wine in countries that are large wine producers. A little advance research about international gift giving customs may pay off. For instance, in countries such as Argentina, wine is considered too common for a gift. However, citizens of South Africa or Portugal believe their wines are superior; therefore only wines from their local regions should be considered as gifts there.
Related Guides
References