Personalized Collage
From Giftypedia
Who is it For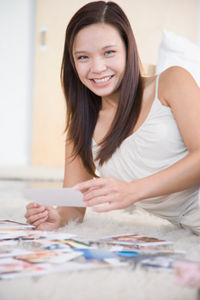 This is a great going away gift -- could be for a family reunion or a family who is moving, someone going to a new job, or a friend who is off to college. This would also make a nice milestone anniversary or birthday gift from the kids to the parents or grandparents. Or a dating anniversary gift to a boyfriend or girlfriend.
What to Do
Pick out a suitably sized piece of poster board or higher quality matting.
Get pictures of family, friends, neighbors, and places that you hung out together. On your computer, print out brief notes or snippets for the more noteworthy pictures. Arrange the pictures and snippets on the poster board or matting and secure with a glue stick.
Frame the collage using a wide mat. If given as a group gift, a nice touch would be to have everyone sign the mat frame with a personal message. Or, if given from an individual or a small group, you can add a personal touch by signing the back of the collage.
More Do It Yourself Gifts