Creative Gift Wrap Ideas
From Giftypedia
You've put a lot of thought into choosing just the right gift and now it's time to wrap. Why should you just put it in a gift bag or a box and cover it in tired old wrapping paper? A "Gifty" person truly wants the presentation of their gift to express their individuality.
Also, traditional giftwrap can be seen as wasteful with that glossy printed paper quickly being torn up and discarded, causing more trees to be cut and inks used, not to mention generating more landfill. Using clever gift wrapping techniques not only shows off your creative side, but also can be an eco-friendly way to re-use items already destined for oblivion.
There are hundreds of clever ways for wrapping a gift -- it just involves a little bit of thinking "outside of the box" (no pun intended).
Unique Gift Wraps
Using a creative gift wrap not only looks good, but is a great way to add a little something extra to your main gift(s). Let your imagination run wild, and you'll be amazed at the ideas you can come up with. Here's a few suggestions to get those creative juices flowing:
Decorative Socks

The possibilities here are endless! Think of all the colors and styles available - and, really, you can wrap lots of things in a sock. Perfume, candles, jewelry, and other small items are perfect for dropping into a cute sock - all you need is a sweet little bow, and voila - you're gift is ready to go.

Unusual Printed Paper

Most everyone will have some type of interesting paper around the house - whether it's the Sunday comics, a dollar bill or old wallpaper! Try letting the kids finger paint on an old shopping bag - Grandma will love it! Tap all the resources you have around the house - it'll not only help the environment by recycling, but your recipient will most likely be impressed by your inventiveness!

Towels and Containers

Bubble bath or soaps wrapped up in a cute little hand towel makes for a delightful presentation. A bottle of wine is a perfect gift to wrap in a dish towel or vintage tablecloth tied up with a ribbon. Oven mitts, pitchers and utility jars look festive filled with cookies, kitchen utensils or cooking spices, too.

Playing Cards

If have an old deck of cards that doesn't add up to 52, don't toss it away! Instead, glue the cards to the outside of an old box for a unique presentation.

Planters & Buckets

Garden and yard tools look adorable placed in a planter or even wrapped up in a garden apron. Grilling accessories, hot sauces, barware, or candles would be nicely presented in an ice bucket or decorative pail.
Finishing Touches
When wrapping a gift, keep in mind that it's often the finishing touch that first draws your eye. Instead of the standard ribbon and bow, you may want to try some of these ideas:
Hair Bows

A decorative hair bow or an embellished ponytail holder is so much cuter than using the common gift wrap ribbons. All you have to do is attach to the top, and your recipient gets an additional little gift to boot!

In Touch with Nature

Add an arrangement of leaves, wildflowers, or pine cones to give your gift that finishing touch.

Kitchen Utensils

Try using kitchen utensils as an adornment for hostess gifts, a housewarming, bridal shower, or kitchen shower gift. Tie the utensils together with curling ribbon and attach with the gift tag to the top of your present. You can even add a chocolate spoon or a chocolate-filled metal kitchen whisk to your gift for a sweet finishing touch. Or, try giving it an Asian flair with a pair of chopsticks tied on top!

Edible Adornments

Kids especially will love this presentation. Lollipops make for a great addition to the top of a gift. Just tie into the bow and you're gift will be the first one opened at any child's birthday party!

Children's Art

Kid's love to show off their artistic talents and would be more than willing to create something to put on their best friend's birthday gift.
Have Fun, Be Creative!!
Again, imagination is the key to creative gift wrapping. Keep your mind open and try to visualize how different papers, containers and every-day items will actually enhance your gift. You and your gift recipients will be surprised and delighted with the many thoughtful ideas you invent - and don't be surprised if start seeing your ideas being adopted by your friends and family!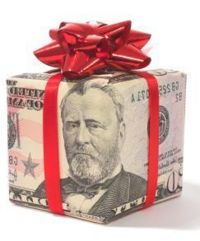 Related Guides