A Scoop of Love
From Giftypedia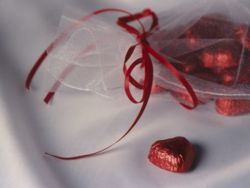 Who is it For
This makes a great gift for mothers, grandmothers, wives, or that special lady in your life. By making something homemade it will show just how much you care and appreciate all things she does. This is a great gift for Valentine's Day, Mother's Day, Grandparent's Day, or just about any holiday or occasion that you want to give somebody some love.
What to Do
Give her some hugs and kisses with this simple and thoughtful way to show your love, and most of the materials that are needed you may have around the house.
Supplies
Directions

Pretty Ribbon
Chocolate Kisses and Hugs
Colored Plastic Wrap
Large Laundry Scoop or Measuring Cup

Take the laundry scoop or measuring cup and fill it with the candy. Now take a the colored plastic wrap and cut a large enough piece that you will cover the scoop. Take the plastic wrap, fold it over the scoop, gather the ends of the plastic wrap together so that it meets at the handle of the scoop. Make sure that you pull the plastic wrap tight to hold the yummy candies in the scoop, hold the ends of plastic wrap at the handle, and tie with the pretty ribbon. Make sure that you attach a card with a loving message, like "My Love For You Cannot Be Measured."
Related Guides