History of St. Patrick's Day
From Giftypedia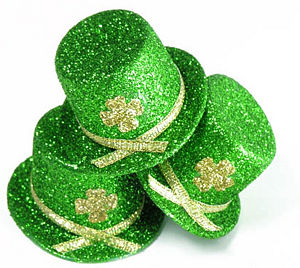 Everyone knows this Holiday is signified by the green, the festivity, the food and drink, the interesting way each participant celebrates, and of course the shamrock. From even the beginning, the green is worn in remembrance of Ireland, the food and drink are staples in the celebration, people dress up, rivers turn green, and the shamrock has been dated back to the very beginning when Saint Patrick made it famous.
Saint Patrick is the reason for this celebration, and the man honored for being the saviour of Ireland. St. Patrick became a religious man and introduced these beliefs and ideas to the Irish people. He spoke of a better life and freedom from bondage. Throughout this crusade, he used the shamrock to explain the Trinity, or the Father, Son, and Holy Spirit. It became a tradition to wear a clover to each sermon delivered from Saint Patrick. The tradition and symbol has continued ever since. There are many credits given to Saint Patrick, some to be believed and others to be just great myths. Regardless of the truth, the Irish honor Saint Patrick for their freedom.
This honor and these festivities is carried out all over the world. It came to America in 1737 and was first celebrated in Boston by Irish troops serving in the English military. This show of patriotism was actually the very first Saint Patrick's Day parade. This has been carried on ever since. Now, many festivals, parades, celebrations, and commemorations exist world wide.
On a side note, Saint Patrick is actually a perfect example of a gift giver. He was constantly performing random acts of kindness and giving gifts to anyone, but never accepting any in return. Now that's a true gift giver.
St. Patrick's Day Celebrations and Customs
Chicago, Indianapolis and San Antonio dye their main canals green for St. Patrick's Day.
Savannah, Georgia dyes its downtown city fountains green.
At the University of Missouri, Rolla the St. Pat's Board Alumni paint 12 city blocks kelly green with mops before their annual parade.
Traditional dishes you might find served in Ireland on this feast day would be ham (or bacon, similar to Canadian bacon) & cabbage, mulligatawny traditional Irish soup, steak and guinness pie, and Dubliner cheese tart. In the Americanized celebration, corned beef & cabbage is usually served instead of the traditional ham/bacon & cabbage.
In the US, eating green has become somewhat of a strange tradition on St. Patrick's Day. Green food dye is used to pigment many foods, like beer and mashed potatoes. Other already-green foods perfect for a St. Pat's party include lime Jell-O, green M&M's, split pea soup, spinach dip, key lime pie, and pistachio ice cream.
Related Guides