Giftwrap
From Giftypedia
[edit]
History of Wrapping Paper
Giftwrap has been around since the invention of paper itself, which has been around since at least 105 A.D. in China.
Wallpaper, which was a forerunner to gift wrapping was used briefly in England, but it tore when folded. During the 19th Century, gifts were often presented in cornucopias or paper baskets. The technology to mass-produce gift wrapping paper had not been invented yet. By the early 20th century, gifts were often wrapped in brown paper or tissue.
The giftwrap industry took off in America in the early 20th century with a few milestones. Developments in printing presses allowed colored ink to be printed on stiffer papers. Hy-Sill Manufacturing Inc., founded by Eli Hyman and Morris Silverman, became the first American gift wrap company in 1903. Around this time, Joyce C. Hall, the founder of Hallmark Cards, discovered printed gift wrap almost by accident. During the Christmas season in 1917, Hall's store had sold out of the white, red and green tissue and holly pattern customers bought to wrap holiday presents. Decorative envelope lining papers from France were brought from the manufacturing plant and put on top of a showcase, for 10 cents a sheet, and those sold quickly. The next year, the sheets were offered three for 25 cents and again, they sold out. Soon, giftwrap became just as popular as the greeting cards Hallmark was already known for.
During these early years, gift wrapping was often tied to the present with string and sealing wax. In the 1920s and 30s, small adhesive circles were sold in packets that allowed the wrapping paper to stick together. In the 1930s, rolls of adhesive tape with dispensers and cutting blades were invented. Also during this time, sticky gift tags and decorative ribbon were developed and sold in packages with matching wrapping paper.
There was another significance to gift wrapping. Unlike many other items, gift wrapping was spared the rules of rationing during World War II. It was believed that wrapping paper helped boost the morale of citizens and encouraged people to give more gifts to soldiers.
[edit]
Evolution of Wrapping Paper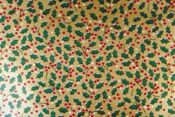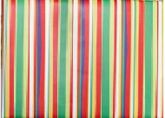 The look of wrapping paper has evolved with the times. Early wrapping paper was decorated in the ornate Victorian style, mainly with birds and flowers. In the 30's and 40's, more stylized paper was a reflection of the Art-Deco era, featuring scenes of Christmas trees, ivy, snowflakes, and candles. By the 70's and 80's, advertisers realized the marketing potential from gift wrapping, so many designs during this time had themes of movies and television shows. Also in the 80's, decorative plastic and paper gift bags were introduced. A custom revived from the Victorian Era, they were an instant hit, offering a quick and easy packaging alternative for gift giving.
As the eco-friendly movement gained steam, giftwrap became an eco-topic regarding the perceived wastefulness that went along with wrapping presents. To combat this, some people switched to using old newspaper as gift wrap. While others have found a number of creative ways to re-use items as a fun way to wrap a present.
[edit]
International Customs
When presenting gifts on an international level, keep in mind their particular etiquette when it comes to gift-giving. Unlike the U.S., many countries across the globe, from Norway to Costa Rica, place high value on the quality of the paper in which your gift is wrapped. In countries like Japan and Portugal, the emphasis of gift giving is on the presentation, and the cost of the wrapping sometimes exceeds the cost of the gift!
Wrapping paper will continue to evolve adding more choices from the traditional roll of wrapping paper to decorated gift bags and boxes. Today, virtual wrapping paper is available to shoppers online with the purchase of a gift card making it possible to wrap a gift without paper!
[edit]
Color Meanings of Wrapping Paper
In some countries the color of the wrapping paper can be more important than the gift inside. For instance, in Chile, purple and black wrapping paper is only used during the Holy Week of Easter and in Thailand gold and yellow are considered royal colors and make good colors for your gift wrapping. In India, a gift should not be wrapped in white or black as these colors are considered to be unlucky, it is best to wrap gifts in vibrant colors.
[edit]
Related Guides
[edit]
Sources