Gift Registry Etiquette
From Giftypedia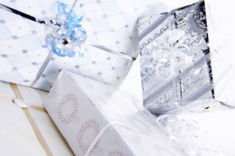 Gift registries are nothing new, however, the debate over the appropriateness of a gift registry still can elicit significant debate. Some people have strong opinions one way or the other. But many more are undecided – while their "practical side" may love the concept of the gift registry, their "social etiquette side" may resent the boldness implied. Although most negative connotations of the gift registry stem from a more rigid etiquette of the past and seem somewhat old-fashioned, they still linger today -- especially if not used appropriately.
There is little debate that the usage of gift registries have evolved. No longer exclusively used for weddings, they are now common/accepted for baby showers and are increasingly being used for birthdays, Christmas and the Holiday Season -- especially with kids. There are limited instances of gift registries being used for housewarmings, graduations, anniversaries, retirements and other major life events, though, using a registry for these more fringe occasions is risky from a breach of etiquette perspective and should be used with care. Some favored pets even have their own gift registries.
If you are one who goes back and forth on whether gift registries are a good thing, here are some common arguments that show both sides of the debate...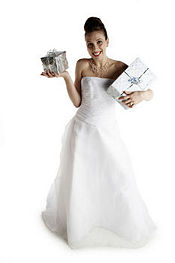 Pros
Cons

Takes the guess work out of gifting
Saves time and effort for the giver - gifts can be purchased without the worry
Ensures that the recipient receives something he/she wants
Gifts from a registry are usually easy to exchange
Cuts down on the chances of multiples of the same gift
Gives the giver more options – you can decide to purchase from the registry or elsewhere
Provides a glimpse of your recipient's taste and personality if they are more of an acquaintance
Offers plenty of choices in all price ranges
May allow younger recipients to have more desirable gifts they would not be able to afford otherwise

Puts emphasis on receiving gifts rather than focusing on the sentimentality of the celebration
Just a way to ask for gifts
Impersonal - no thought required in the gift selection
Allows businesses to use the registry tradition for profit - engaged couples are sometimes persuaded to include large numbers of gift ideas along with more expensive gifts
Allows the recipient to know exactly how much was spent on the gift
Limits the purchasing of gifts to certain stores
Offends the giver by price or extravagance of gift ideas chosen

The old saying, "you can't please everyone," fits the scenario of gift registry etiquette. If you are still wavering on whether or not to use a gift registry, below are some hints to help you stay within the guidelines of gift registry etiquette and avoid becoming the offending party: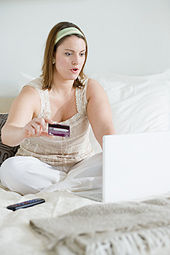 Limit yourself to two stores when registering so your guests won't have to go store to store when deciding on a gift. Consider an online registry where gifts from different stores can be shown on one registry and purchased online for your giver's shopping convenience.
Don't register at stores that do not sell products that relate to your occasion. A bridal registry should be limited to stores that sell household items, whereas a birthday registry can include any store that reflects the person's interests.
Don't register for everything you may possibly ever want – stick to the basics that make sense for the present.
Keep in mind that the registry is a list of suggestions. Don't expect your guests to use the registry, as some may prefer to give something that they think you will like.
Don't include gift registry information in your invitation. Even though gifts may be expected, including them in your invitation appears demanding.
If you are already established and creating a wedding registry, avoid registering for overly extravagant items because you already have the basics.
[edit]
Gift Registry Considerations for the Gift Buyer
If you're buying a gift, deciding whether or not to use a gift registry may depend on the situation. For a close friend, you may opt for a more personal gift, whereas for an acquaintance, a gift registry may be a godsend. Remember, no one is required to use a gift registry – or even give a gift for that matter.
If you are one who takes pride in finding the perfect gift, a gift registry can be used for ideas and inspiration without having to purchase from the list. And, if you have an idea for a gift that you think the recipient would truly love, go for it! If you do choose a gift from a gift registry, consider adding a little something extra to go along with the gift that reflects your relationship to the recipient.
Never feel obligated to purchase from a registry – it has been created for your convenience if you desire to use it.
[edit]
Related Guides