Sweet Treats Kitchen Whisk
From Giftypedia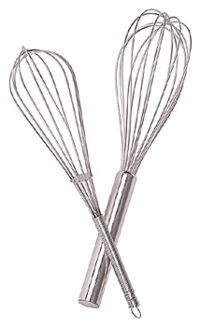 Who is it For
This cute and easy to make Wire Whisk Craft is great for several holidays and occasions, and can also be used as a creative gift wrapping embellishment. This sweet-filled DIY kitchen utensil gift is great for any holiday and will make the perfect gift for Mother's Day, Christmas, or Valentine's Day. You can display your gifty skills when you present this gift as a teachers appreciation gift, homemade wedding favor, or use as a gift wrapping accessory for a housewarming, bridal shower, or kitchen shower gift.
What to Do
Supplies Needed:
Wire whisk
Small Wrapped Candy, Hershey Kisses or Mini wrapped chocolates
Small Cellophane Bags
Ribbon
Scissors
Card Stock
Pen
Optional:
Crayons
Stickers
Construction Paper

These are great to use if children are making the gift, to decorate bag and make a handmade gift card

Tulle Circles

Use tulle instead of cellophane to add a special touch especially when using this as a wedding favor

Personalized Favor Gift Tags
Personalized Filler
Check out Grooveycandies.com they have lots of wrapped filler candies at bulk prices. |}

Making the Favor Take the ribbon and cut pieces that are long enough to make a bow, about 12" long. To make your whisk favor hold the head of the whisk in the palm of your hand. Fill the wire whisk with the candy of your choice. Candies should be small enough to fit easily into the whisk, but will not fall out easily. Wrap the whisk with the cellophane bag or tulle, make sure that it is pulled tightly around the head of the whisk. Take the ribbon and secure your bag or tulle with a bow around the handle of the whisk. Use the card stock to make handwritten gift tags, or make them on your computer. Attach the gift tag or personalized favor tag to the whisk with ribbon.
Gift Card Phrase: Whisking You a Merry Christmas! We Whisk You a Happy Holidays! Whisking You Thanks for Attending Our Wedding! Tip: Can be used for any holiday or occasion just fill in the appropriate occasion on the gift tag. Prepare a few of these and keep them on hand for a great emergency gift.
More Do It Yourself Gifts
| | |
| --- | --- |
| | Sweet Treats Kitchen Whisk |