No Sew Fleece Blanket
From Giftypedia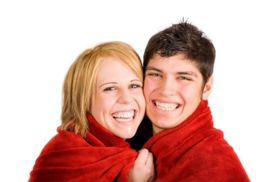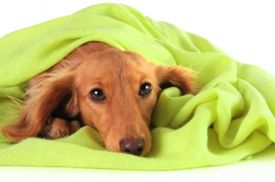 Who is it For
For those who are "sewing challenged," this is the project for you! A simple craft project, a do-it-yourself no sew fleece blanket is a a thoughtful gift for almost anyone. Perfect for a birthday, Chanukah or Christmas, everyone loves a cozy blanket - even Rover! Patterns can be chosen according to the age and interests of your recipient – baby prints and cartoon characters for children, collegiate logos for the college bound, sports patterns for sports lovers, pet prints for pet lovers... and the list goes on. Fleece is available in different weights and woven in such a way that its fiber content will not fray when it is cut, making it the fabric of choice for our no sew tie blanket. So lets get started!
What to Do
Start by purchasing the fabric. Fleece is available in many different patterns. Most fleece fabric comes 54 inches wide - your fabric should be at least 40 inches wide. The no sew fleece blanket can be sized in proportion to your recipient. For the big and tall, just make it a little larger. Here are some guidelines on how much fabric to purchase for your no sew tie blanket:
A baby or toddler - 1 to 1 1/2 yards of both fabrics
A child - 1 3/4 yards of both fabrics
An adult - 2 yards of both fabrics
Supplies
Directions

Two pieces of outerwear fleece of the same dimensions. Each fabric piece may be a solid or a print, the same pattern or different patterns.

Tape Measure or Ruler
5" x 5" piece of paper for a cutting guide

Cut your fabric to the desired size.

Place one piece on top of the other lining up the edges. One piece will be the top and the other piece will be the bottom of your blanket.

Using your 5" x 5" paper guide, cut a square from each corner of the fabric, cutting through both layers of fleece.

To make the fringe, cut 5-inch deep slits at 1-inch intervals around all sides, cutting through both layers of fleece.

Using an overhand knot, tie one top and one bottom fringe together - tying every other fringe around the entire blanket.

Flip the blanket over and tie the remaining fringe together continuing around the edges until all fringe has been knotted.
Tips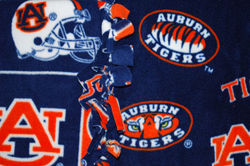 Tying double knots will assure your blanket does not come apart in the wash.
Pin the fabric pieces together to keep the fabric from shifting as you cut the fringe.
Using different types of knots will create different effects.
To care for your blanket, simply machine wash.
Related Guides