Grandparents Baby Shower
From Giftypedia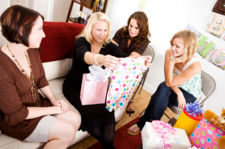 Baby Showers are not just for expectant parents anymore, they are also great for Grandparents. Being a new grandparent is extremely exciting, and throwing a Grandparents shower is a great way to commemorate this milestone of their life. The Grandparents shower should not be considered an alternative shower, but in addition to the traditional baby shower for the mom or parents-to-be. These showers are typically given by close friends or co-workers, for the arrival of the first grandchild. These types of showers are generally given for the grandmother-to-be, but co-ed showers can be given so that both grandparents can be involved. These showers can also be given to help to get the Grandparents-to-be home ready and safe for the new bundle of joy.
Tips for Planning a Grandparents Shower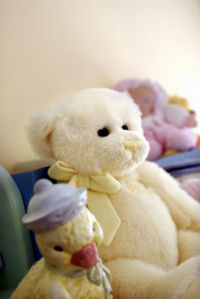 The guest list for these types of showers are typically close friends, co-workers, church members, or members of a social group. The guests are individuals that are important in the lives of the Grandparents, and the guests could possibly not even know the expectant mother and father-to-be. Inviting family members is acceptable, but if the expectant mother is on the guest list then attention should not be taken away from the grandparents.
Choose invitations that are geared toward the Grandmother, or baby themed, like ducks, baby bottles, teddy bears, or pink and blue. Check out the baby shower invitations at FineStaionery.com they have several styles that would be perfect. You can also get the thank-you notes that follow the same theme as the invitations.
Timing can be day or night, with a casual setting. If a co-worker is the host, then you could throw the shower at the office. If you're going for a co-ed shower, plan a dinner night with cocktails, or a backyard barbecue.
Decorating for the shower can range from no decorations to simple decorations like booties, baby socks, baby bottles, and pacifiers that the Grandparents can use after the party.
Make it fun for the Grandmother-to-be with tiaras, sashes, or corsages, play games that are fun but that are not about being pregnant. Some games to consider are Finish Grandma's Sentence, Baby Picture Match Game, Baby Advice Book, The Price is Right, or the ABC Baby Word Game using words related to being a grandparent. For more game ideas, check out the Baby Shower Games section for more ideas.
Unlike a baby shower a gift registry is not appropriate, gifts should be practical baby items to prepare the Grandparents house for the pitter-patter of little feet.

Mini Crib, Corner Crib, Pak N'Play, Fold-Away Crib
Lightweight Stroller
Baby Care Products: diapers, wipes, lotions, bathing items, etc.
Products to child-proof home
Bedding
Toys

Personalized gifts or baby items that represents the Grandparent relationship, such as "Grandma Loves Me", or "No Means Ask Grandma or Grandpa", etc. Personalizationmall.com has apparel, picture frams, and coffee mugs that would make terrific personalized Grandparent gifts.
Gifts that will create and display memories, like a digital camera, video camera, brag books, picture frames, or photo albums.
Related Guides