Veterans Day
From Giftypedia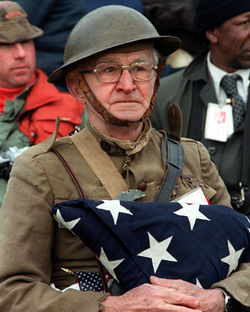 When Celebrated
Always on November 11th
Gifty-ness

About the Holiday
On Veterans Day we thank those to gave their time and risked their lives to protect, or create, the freedoms that we enjoy. On this day, give thanks to those who have served our country and appreciate the rights and freedoms that are symbols of our country. Many times, we take our freedom for granted while people in other countries even in these modern times are denied even the most basic liberties.
The origin of Veterans Day dates back to when President Woodrow Wilson proclaimed November 11th, 1919 to be Armistice Day to honor the heroism of those who died in the country's service. In 1926, Congress requested that President Calvin Coolidge issue another proclamation to observe November 11th. On May 13th, 1938, a Congressional Act made Armistice Day on November 11th an official legal holiday dedicated to the cause of world peace.
In 1945, World War II veteran Raymond Weeks suggested that Armistice Day should be expanded to include all veterans, not just those who died in World War I. On June 1st, 1954, Congress amended the previous Congressional Act to officially change the name of the holiday to Veterans Day.
Gift Guidelines

A thank you
US flag
Decor or apparel with the US Army, Marine Corp, Navy or Air Force logos
Something patriotic

Related Guides

Related Holidays
November Info & More Holidays
Birthstone:
Flower:
Zodiac:
Oct 24 - Nov 21



Scorpio

Nov 22 - Dec 21



Sagittarius