Halloween Luminary
From Giftypedia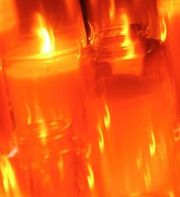 What is a Luminary?
A luminary is an outdoor candle lantern used to line a driveway or sidewalk. Known as luminarias in Spanish, luminaries have been made from paper bags. In some Southwestern states, such as Arizona, Texas and New Mexico, luminarias can also be used as Halloween decorations.[1]
Who is it For?
Anyone that wants to add a festive or rustic touch to their outdoor Halloween decorations. This is an easy and fun homemade Halloween craft project for children and adults. It also teaches different ways to reuse plastic or glass containers to create recycled gifts.
These homemade luminaries are perfect for other outdoor holiday decorating, like Christmas, by simply changing the color of the ccovering and the decorative accents.
What to Do
Gather the materials together. You can probably find most of these items around the house, or ask your friends and neighbors to save some plastic bottles for you.
Supplies
Directions

Container – recycle a large mouth jar, soda bottle, tall plastic water bottle, or tall jar candle.

Covering - tissue paper, paper bag or Halloween themed candy bag.

Decorative accent – Halloween stickers, plastic spiders, string, ribbon, pipe cleaner or raffia.

Scissors

Tape

Markers or paint

Glue (If needed for extra pieces)

LED candle or votive candle with a holder.

Small sealable sandwich bags with sand for weight.


Remove any labels on the jars or bottles.
Cut the entire top off of the plastic bottle.
Draw scary faces, bats, spiders, etc. on the paper. Be sure to make them small enough to see from one side.
If using paper bags or construction paper, cut shapes for the light to shine through.
Place the piece of paper flat on a table. Wrap one side onto the container. Tape down this edge, then roll the jar around the paper to cover the entire jar. Tape down the last edge.
Trim off extra paper at the top and bottom. You can let some paper stick up over the top.
Use something to keep the paper on the jar. Rubber bands, raffia, ribbon, etc.
If using a plastic container, place some sand in a small sandwich bag and seal it up. Place this in the bottom of the container. This will help keep the candle from falling over.
Place an LED candle in the bottom. If using a real votive or tea candle, place it in a votive cup.
Related Guides
References