Memories Scrapbook
From Giftypedia
Who is it For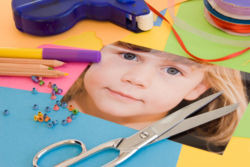 This is a great gift for a husband to wife or boyfriend to girlfriend or vice-versa. This would also make a nice anniversary gift from the kids to the parents or grandparents. A memory scrapbook makes a sentimental gift for Mother's Day or Father's Day, for the eldest at a family reunion, or it can also be an appropriate condolence gift.
What to Do
Pick out a blank scrapbook with a nice cover. It can be traditionally bound or if you can find a tie-bound version even better as that would allow you or them to add more pages later on.
Include photographs, newspaper articles, class schedules, ticket stubs, etc. Write personal messages next to the items to take him/her back to the moment. Sign the back of the scrapbook with a personal message.
More Do It Yourself Gifts