Dating Anniversary Scrapbook
From Giftypedia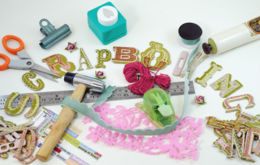 This is a great gift for a boyfriend or girlfriend, especially for a first dating anniversary. A memory scrapbook makes a great sentimental keepsake to mark an important milestone in your relationship.
What to Do
Pick out a blank scrapbook or photo album with a pretty cover, or make a scrapbook.
Supplies
Directions

Album- The best type will allow you to add or remove pages. That way, you can add more pages if need be, or take out blank pages you don't use.
Acid-free pages- Choose paper that compliments your theme and color-scheme.
Photo corners
Glue
Die-cuts, stickers, and embellishments
Regular scissors and craft scissors that cut different style edges
Ruler
Pens and Markers

Items to Include:

love notes, love quotes, love poems, greeting cards, pictures, matchbook covers, bills, movie tickets, napkins, restaurant cards, song lyrics, etc.

Lay out all of your supplies on a large table. Start with the first page and work your way through the book. Arrange all your pages before gluing anything down.

Don't decorate the front cover until you have finished all the pages inside, because you'll need to have your book open to work on the pages inside and the cover will get messed up.

Tips:

Allow any glued items to dry completely before you place them on a page in the album.
Write as neat as possible, but do not stress about sloppy handwriting. All that matters is that the messages are personal and legible.
If any of your pictures are not digital then be sure to make copies of the photos that you include in your scrapbook. That way, you will still have a copy.
"Firsts" that you can include in your scrapbook...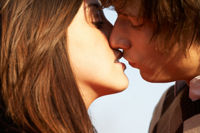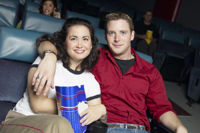 How you met. Online? Blind date? Through family or friends, etc.?
First impression. What you thought about your boyfriend/girlfriend? Was it love at first sight or an awkward first date?
First date. Who asked who out? Where did you go? What did you do? How did you feel? How did the date go? How did you feel when it was over? How soon did you go out again?
First kiss. Where and when did it happen? Where you nervous?
First "I Love You". Who said it first? How long into the relationship? How was it said?
First movie. What was the movie? Did anything exciting happen while at the movies?
First time at each others house. What was the occasion? Which family memebers did you meet?
First song you heard together, first song you danced to. If you have a favorite song, include a copy of the CD cover. Or print out the lyrics to place on a page.
First time you went grocery shopping. What did you buy?
First restaurant.
First holiday celebrated together. How did it go?
Things that remind you of your boyfriend/girlfriend? Movies? Songs? Places?
Related Guides