Plan An Earth-Friendly Wedding
From Giftypedia
What is an Earth-Friendly Wedding?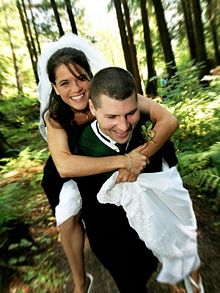 Earth-friendly wedding, eco-friendly wedding, eco-conscious wedding, green wedding... are all terms referring to the same ideal – a wedding that makes less of an impact on the environment. No longer does the term "earth-friendly wedding" recall images of the 70's, complete with hippies, headbands and flower power; rather, planning an earth-friendly wedding is the newest trend in wedding planning. Not only does it integrate social principles into your wedding, but it's a way to create your dream wedding while leaving a smaller footprint on the Earth.
Why an Earth-Friendly Wedding?
The average cost of a US wedding is estimated to cost $28,000, leaving an economical and ecological footprint on the earth. Saving the planet has become an important issue, and living greener lifestyles is easier than ever with earth-friendly products hitting the market. With so much emphasis on living green, it seems appropriate for wedding planning to go green. Planning a green wedding not only benefits the environment, but will also support socially-conscious businesses like green-wedding planners. As you are faced with planning for your "big day," you may decide to alter your thinking. Why not honor your environmental lifestyle and "green-up" your wedding? You may even open a few eyes in the process!
10 Tips for Planning a Green Wedding
Need a little more help? Check out the Green Wedding Book, offered by The Discovery Channel. This how-to guide put out by New York Times correspondent, Mireya Navarro, explains how couples can "green" their dream wedding.
Related Guides