Fresh Herb Gift Basket
From Giftypedia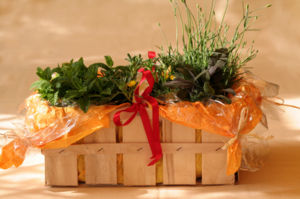 Who is it For
This DIY gift idea is a present that any homemaker, budding gourmet, or gardener would find delightful. Filled with herbs and other related items, the Fresh Herb Gift Basket is a practical gift idea that you can tailor to the taste of the recipient, a personalized gift basket. Whether they like Italian or prefer their cuisine hot and spicy you can find the right herbs and other cooking items to make a nice and thoughtful gift.
What to Do
Start by choosing the basket or container you would like to fill. You can find containers at craft and hobby stores or any store that carries home decor type items. Next pick the type of herbs and other related gifts to go in the basket. You can pick up small herb plants at any garden store or you can start the seedlings yourself.
Below are just a few suggestions on themes and contents for your Fresh Herb Gift Basket. With this do-it-yourself gift idea, the options are unlimited.


Italian
For the Gardener
For the "Chef"

Parsley
Sage
Rosemary
Oregano
Thyme
Parsley
Sage

Additional items that can be included:

Olive Oil, Wine, cheese, breads, pastas, Italian Cooking Cookbook

Rosemary
Chives
Dill
Parsley
Lavender
Mint
Sesame
Marjoram

Additional items that can be included:

Gardening tools, gloves, How-to grow herbs book, recipes, seeds, plant markers

Basil
Cilantro
Parsley
Rosemary
Thyme
Tarragon
Lemon Balm

Additional items that can be included:

Cookbook, pestal and mortar, baking dish, recipe cards, pot holder, dish cloth
Arrange the items in the basket so that at least a portion of each can be seen and you have a nice visual balance. You can use shredded paper to line the bottom of the container to help in arranging the items. Use raffia or ribbon to tie a bow around the containers of the herb plants and to add the finishing touches to your gift basket. It is not suggested to wrap the basket in plastic or cellophane cover as you do not want to damage the fresh herbs.
Tips
For a cooking theme gift basket, fill a colander instead of a regular basket.
For the gardener basket, use a flower pot.
If you grow your own fresh herbs, include some clippings from your garden.
Add some sweet treats to any gift basket for a special surprise.
If garden space is limited, create a basket with supplies for a windowsill garden. Chives, basil, lavender, parsley, mint and thyme are good herbs for growing in a windowsill garden.
For a scented herb garden use herbs like lavender, sage, lemon balm, mint and Anise Hyssop. These scented herbs can be used for bath oils, lotions, potpourri, as well as cooking.
Related Guides