Tips for Planning a Baby Shower
From Giftypedia
Are you in charge of hosting a Baby Shower? If you have never planned a Baby Shower, you may be wondering where to begin. Planning a baby shower for a special mom-to-be does not have to be stressful. With some simple planning and preparation you can have a shower that everyone will enjoy. Here a some great baby shower ideas to help make your party a success.
Tips for Planning a Baby Shower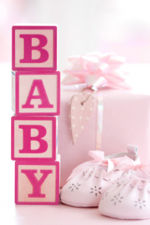 Choose a Date
When setting the date for the baby shower, consult with the parents-to-be about their schedules, type of shower (i.e. couples or all-girls) and if they would like to celebrate before or after the baby arrives. If you are planning a baby shower prior to the birth, typically it is best to choose a date anywhere from 1-2 months prior to the baby's due date. Typically, Saturdays or Sundays are the most convenient days for guests to attend. Pick a couple of date options and contact important guests, especially out of town guests to determine their availability before pinpointing a date. If you will be planning a "welcoming baby shower", after the baby is born then tentatively pick a date at least one month after the baby's due date.
Related Pages