Fun and Unique Holidays
From Giftypedia
Throughout the year there are many fun and unique holidays that make perfect gift giving opportunities. Holidays are born because something special happened on that day, or to pay tribute to a person, special cause, occupation, or even someone's favorite food.
Use our calendar to find official, traditional, funny and even bizarre holiday celebrations.
Follow us on Pinterest or Facebook to receive our free daily holiday feed!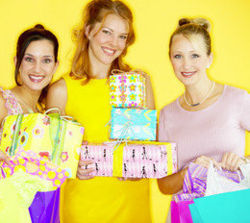 For these holidays, you'll find the holiday meaning and a few gift guidelines to help choose that unexpected gift. Thoughtful and unexpected gift giving is certainly a gifty trait -- check out these holidays and you'll be sure to find a few to show off your gifty-ness.
Every day is a gift and should be celebrated. Hopefully these holidays help you in finding fun new to celebrate!
November Info & More Holidays
Birthstone:
Flower:
Zodiac:
Oct 24 - Nov 21



Scorpio

Nov 22 - Dec 21



Sagittarius
Related Guides