The Meaning of Gifty
From Giftypedia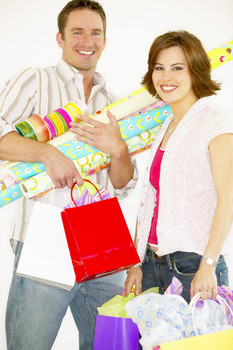 A person that exemplifies "giftiness", has mastered the art of giving gifts. A "gifty" person has distinguished characteristics and qualities that make others take notice and strive to be better gift givers themselves. They not only have a knack for giving the perfect gift, but they also remember that gift giving is about making someone else feel good.
Traits of a "Gifty" Person
Thoughtful
Enthusiastic
Creative & insightful
Prepared & organized
Like to make others feel happy
[edit]
How Do You Know If You Are Gifty?
A "gifty" person exudes gifty traits through the gifts that they give. They tend to take gifting beyond the traditional occasions by celebrating fun and unique holidays that many don't even know exist. Being thoughtful and organized has them ready to respond to any gift giving opportunity. They know that procrastination is a creativity killer, and that being attentive and knowledgeable about the recipient helps to make their gifts meaningful and memorable. Gifty people prepare themselves by setting and keeping a budget, and usually keep emergency gifts on hand for unexpected occasions.
A gifty person's gifts show how meticulous they were in choosing just the right gift, sometimes by adding in a little something extra for that personal touch. Creative gift presentation is another gifty trait. Ultimately a gifty person is a gracious giver, giving gifts that will be memorable beyond the point of giving the gift.
Find out just how gifty you are with Giftypedia's How Gifty Are You?, a short test about your gift giving practices.
[edit]
Related Items