Champagne Glass Favor
From Giftypedia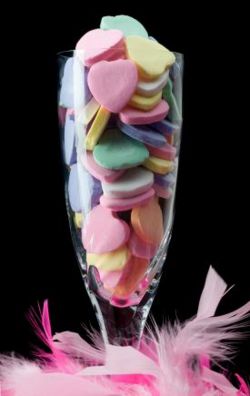 A champagne glass or flute filled with candies makes a lovely take home favor for your wedding guests! The glasses can be simple, small and made of plastic, or fancier to suit the occasion, with flutes in glass or even fine crystal. Filling the glass with the favorite candy of the Bride and Groom adds a whimsical touch. Pick candy colors to match your wedding/reception décor. Some types of candy can be personalized as well. If giving glass or crystal flutes, keep in mind that they can be etched with names or a date. If not, you can add a personalized ribbon or tag to note the special day.
Supplies Needed
9" Pre-Cut Tulle Sparkle Circles
Sheer Organza Style or Cloth Ribbon or Personalized Wedding Ribbon

Choose tulle and ribbon that compliment your wedding colors

Champagne Flutes or Glasses (plastic, glass or crystal)
Scissors
Glue Gun
Clothespin
Personalized Favor Gift Tags (optional)
Favor Filler

Red Cinnamon Hearts
Jordan Almonds
Champagne Bubbles
Chocolate Dutch Mints
Pillow or Butter Mints
Jelly Belly Jelly Beans
Amorini Hearts

Personalized Favor Fillers

Personalized Lolly
Custom Printed MY M&M'S
Custom Message Hearts
Personalized Hershey's Kisses
Hometown Candy
Making the Favor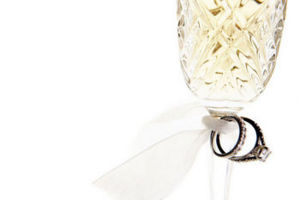 Take the tulle circles and cut a line to the center of each circle.
Cut the ribbon into pieces long enough to make a bows, about 12" long. If you decided on personalized favor ribbon then some styles come pre-cut, which can be a time saver.
Use the glue gun to put a few drops on the under side of the glass (part that will be filled) to hold the tulle in place.
Fill the glass with your filler of your choice.
Place the tulle circle around the stem of the glass, make sure to overlap the edges, then pull the tulle circle upwards. The glue will help to make sure that the tulle stays in place.
Twist the tulle at the top of the glass.
Attach the clothespin to the twisted tulle to secure the tulle in place.
Tie the ribbon into a bow around the tulle, once tied tightly the clothespin can be removed. Remember to attach the personalized favor tags before tying the bow.
You may also decide to have your guests use the glass for the toast to the Bride and Groom. In this case, wrap the tulle around the candies, tie it off and place inside the cleaned champagne glass. This way it can easily be removed at the reception and filled with champagne!
Tip: Check out GroovyCandies.com they have lots of filler candies at bulk prices, also for great personalized candies check out MyM&M's.com, and Hershey's Gifts. For the tulle circles and personalized ribbon check out FutureMemories.com.
More DIY Wedding Favors...
Keepsake Wedding Favors...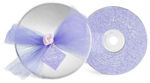 Edible Wedding Favors...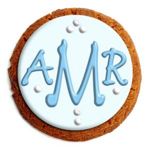 Bath/Eco-Friendly Wedding Favors...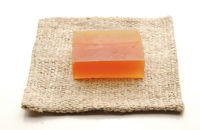 Related Articles