Scented Soap Favor
From Giftypedia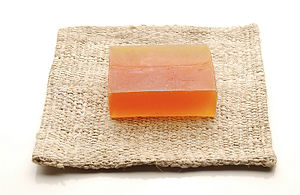 Supplies Needed
Blocks of Heat and Pour Clear Glycerin Soap
Soap Molds or Chocolate Molds (themed with wedding or something that reflects the bride and grooms interests)
Microwave with Temperature Control
Microwave-Safe/Heat Proof Glass Bowls
Saran Wrap
Mica or Soap Dye

Choose colors that compliment or leave clear to embed trinkets into the soap (i.e. silk rose petals, photos, plastic doves, etc.)

Essential or Fragrance Oils (choose your favorite scent or scent to compliment theme, for a beach theme you could use coconut or a Hawaiian Paradise scent)
Knife
Spoons
Scissors

Spray Bottle with Rubbing Alcohol

Roll of Tulle
Satin Ribbon, Cloth Ribbon or Personalized Wedding Ribbon

Check out Print My Ribbon they have custom and pre-printed ribbon.
Choose tulle and ribbon that compliment your wedding colors.

Favor Tags or Personalized Favor Gift Tags
4x6 Shrink Wrap Bags
Hot Glue Gun
Glue Sticks
Newspapers
Clothespins
Optional
Tip: If you do not have a double boiler then all you need is a saucepan and stainless steel bowl or heat proof bowl. Put a few inches of water into the saucepan bring to a simmer not boiling, place the bowl on top of the pan. Make sure the bottom of the bowl doesn't touch the water. Add the chunks of soap into the bowl on top to melt. Do not leave unattended.
Wrapping and Embellishments
Choose wrapping and embellishments that compliment the theme of the wedding. This favor idea is a beach themed favor that is perfect for any spring or summer wedding.
Small Flowers
Mixed Sea Shells
Craft Plastic Pearl Mixes
Wrapping Variations
Organza Drawstring Bags
Colored Tissue with Personalized Labels
Wedding Dress and Tuxedo Gift Boxes
Clear Italian Wedding Favor Boxes tied with Sheer Ribbon
Silk Rose Petals
Miniature Doves
Miniature Wedding Bells
Possible Soap Molds
Wedding Bells
Heart
Starfish
Maple Leaves
Doves
Sea Shell
Rose Blossom
Bride and Groom
Hugs & Kisses (X's & O's)
Monogram
How to Make Scented Soap Favors
Making the Soap
Cover your working area with newspaper and set out all your supplies.
Take the soap block and cut into small chunks and place them into the microwave safe glass bowl.
Most heat and pour soaps come with instructions on melting, but you can melt in the microwave or in a double boiler. To melt in the microwave, just cover the bowl with Saran wrap to help prevent moisture loss. Make sure to heat the soap slowly, heat on high setting, start with just a minute at a time. Repeat heating a minute at a time until all the chunks are completely melted. Do not overheat.
After the soap base is fully melted slowly add the fragrance or essential oil to the melted soap, adding scent during heating will cause it to evaporate. Start by adding a small amount of fragrance about .25 ounce per pound of soap base, if you desire a stronger scent you can add more oil. The amount of scent you use will depend on the strength of the oil.
If you are adding color to your soap then add your color when soap base is completely melted. If using soap-safe dye add a few drops at a time, and stir in color. You can add more drops as you stir until you get the color you desire. If using mica add a 1/2 teaspoon per pound to achieve a good color, stir well, you can always add more if needed. Stir in color gently to avoid making to many air bubbles. Spray any bubbles that form on the top with rubbing alcohol.
Slowly pour soap into molds spray the top with rubbing alcohol to get rid of any excess bubbles. Let the soap set until hard, this can take a few hours. To hurry this along you can put molds in the refrigerator. If you create any wrinkles try to remove them spraying with rubbing alcohol.
Once soap has completely hardened you should be able to pop the soap out of the mold. If the mold does not come out easily then tap the mold firmly with the palm of your hand or large spoon. Just repeat soap making process until you have enough to make favors for everyone.
Slip finished soap into shrink wrap bag, tape end, use a high wattage blow dryer to shrink the bag. If the shrink bag is to large it can be cut to fit.
Soap Embedding Tip: To embed objects into your soap, when pouring soap into molds just pour enough soap to fill a quarter of the way. Allow the soap to cool a bit, spray object with rubbing alcohol, then place object into mold. Spray with rubbing alcohol and fill the rest of your mold. Let soap molds completely harden, then pop the soap from the mold.
Wrapping the Favors
Take roll of tulle and cut squares that are large enough to bunch around the soap.
Take ribbon and cut pieces long enough to make bows, about 12" long.
Take a soap and place it in the center of the tulle square, add a few small sea shells and craft pearls (or the embellishments of your choice).
Gather the edges of the tulle then twist the tulle, secure the twist area with a clothespin.
Take a piece of ribbon and tie a bow around the tulle, once tied tightly the clothespin can be removed. Remember to attach the personalized favor tags before tying the bow.
Embellish the bow by gluing a small flower to the center of the bow.
Take a larger sea shell and glue a craft pearl to the inside, then glue the sea shell pearl side out onto the ribbon beside the flower. Make sure to attach the sea shell on the opposite side of the bow than the gift tag, and be careful not to get glue on your gift tags.
These homemade soap favors can also be used for bridal shower, baby showers, or for spa parties. Simply choose molds that compliment your party theme, to make Baby Shower Soap Favors use Baby Booties, Baby Bottles, or Rattle molds.
More DIY Wedding Favors...
Keepsake Wedding Favors...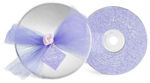 Edible Wedding Favors...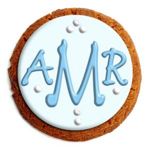 Bath/Eco-Friendly Wedding Favors...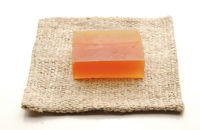 Related Articles