Pregnant Twister
From Giftypedia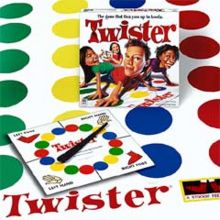 Type of Game: Baby Shower Game
Before the shower make sure you have a Twister Game, 2 fanny packs, 2 10lb. weights, and 2 pillows. Place the 10lb. weights inside the fanny packs, then the players will strap the pillow around their stomachs using the strap from the fanny pack. The pregnant guests do not have to put on the fanny packs. Then guests will compete against each other playing twister until one loses. Then the winner each game will continue to compete against the other guests till each guest has played. The guest that is left standing during the final game is the winner.
This is a great game to play at a couples baby shower, women always want the guys to know what it feels like to be pregnant.
More Baby Shower Games...
Related Articles