Make a Baby
From Giftypedia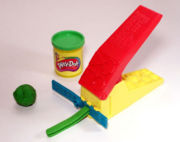 Type of Game: Baby Shower Game
Give each participant Play-doh and 1 toothpick then ask them to create a baby. Using only one container of Play-doh each guest has 5 minutes to create a baby. The guest of honor should choose the best baby.
This is also a good Jack and Jill baby shower game as the couples can work in teams.
More Baby Shower Games...
Related Articles