Give the Gift of Relaxation to a New Mom
From Giftypedia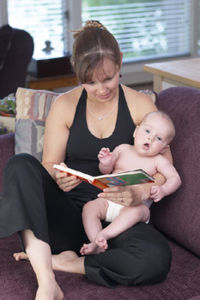 After nine months of anticipation, and excitement, it is now time to bring home a new addition to the family. The new mother has endured months of stress to her body, now she has to look forward to feedings every two hours, never-ending piles of diapers, sleep deprivation, on top of all her regular family obligations. The best way to help that new mom alleviate the stress is simple, just lend a helping hand with the everyday household demands.
Give Them Food
Encourage the expectant mom to seek out and join Moms Club
Many Moms Clubs offer meal exchange programs, and when a member has a baby then the other members will come to the rescue with wholesome, home cooked meals. Most Moms Clubs will offer these services for the first couple of weeks, so it will give the new mom time to adjust to a new schedule.
Become Sous Chef
Roll up your sleeves, tie on an apron,and get to cooking for the new mom. There are many recipes that you can find that you can prepare, that freeze well. Then all she has to do is re-heat and enjoy a nice home cooked meal.

Check with family on their favorite foods, or if anyone has any allergies, then you know that the meals will be well received.
Get Some Food Delivered
Several companies offer complete meal packages, many that are only a mouse-click away. Gourmet meals delivered straight to the new mom's door are available from Delightful Deliveries. You can choose from soups, seafood, and premium meats to assemble a meal that will surely bring comfort and relaxation
If someone in the home is on a special diet, Gourmet Station offers delicious complete meals for those with or without diet restrictions. They offer low card, low fat,low sodium, and even diabetes friendly menus without sacrificing taste.
Alleviating the new mom of having to strap on the apron will help ease her into a new schedule, and give her more time to bond with the new bundle of joy.
Spic-and-Span House
Lend a Helping Broom
Cleanliness seems to be a habitual worry of new mothers with many visitors popping-in to see the baby. Give the new mom reprieve from cleaning, pull on the rubber gloves, add a smidgen of elbow grease and clean for her. Just going by sweeping, vacuuming, or dusting can be thoughtful gift that a new mom will cherish.

A creative way to offer your services is by creating a homemade coupon book of cleaning tasks that you will provide, and present it to the new mom so can redeem them whenever she needs the most help.
Hire a Cleaning Service
Help the new mom spruce-up the house is by hiring a cleaning service. Many cleaning companies offer gift cards that make perfect gifts, and then the new mom can customize her cleaning package.
If the new mom is living a healthy lifestyle that encompasses Green Living. There are cleaning companies, like Maid Brigade, that offer gift certificates for that health-conscious new mom to get her house Green Clean.
Helping a new mom with the cleaning will make her happy and grateful that she can relax and bond with baby in immaculate surroundings, and the best part is that all the guests stopping by will think she is super-mom.
Do the Laundry
Wash, Dry, Fold
Laundry is another area that can keep new moms frazzled, and stressed. Help her with laundry, babies are very messy, so doing a few loads will help reduce the stress of the never-ending piles of clothes.

Always check with the new mom on preferences on laundering, especially the new babies clothes.
Easy Clean Clothes
Laundry services are offered by many companies, several offer gift certificates. You can even find laundry companies that will come to her home, pick up the laundry, then return the nice clean clothes right to her door
Related Links