Baby Item Memory Game
From Giftypedia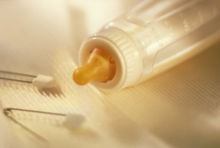 Type of Game: Baby Shower Game
Put all different baby related items on a tray. For example, baby pacifiers, baby nailclippers, Balmex, baby powder, bottle, bib, etc.
Pass it around the room.
Cover the tray up, and have the ladies write down as many items as they can remember. The one with the most wins.
More Baby Shower Games...
Related Items