Hawaiian Theme Weddings
From Giftypedia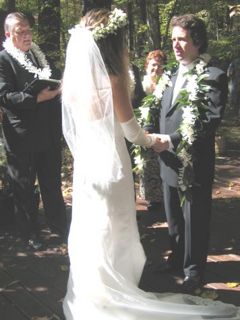 A Touch of Aloha!
Love the idea of Hawaii? If a wedding in Hawaii is out of the question, why not choose the next best thing? Bring the islands home to create a virtual destination Hawaiian wedding!
A wedding in Hawaii can be very expensive, but no matter what your budget, an Hawaiian themed wedding can be romantic, elegant, budget friendly and earth-friendly. Whether on the beach or in your own backyard, you can make your dream Hawaiian wedding come true.
The Hawaiian word, "luau" means "feast of Hawaiian food." Hawaiian themed weddings are more casual and relaxed and the focus is on the celebration and food. Thus, even your guests will feel as if they are on vacation. Giving your guests a digital photo as a wedding favor of themselves in the tropical atmosphere will add to their experience.
Secrets to Bringing the Islands Home
Hawaiian Attire
Let your guests help create the tropical island atmosphere. Make sure your Hawaiian themed wedding invitations suggest wearing Hawaiian attire. Most everyone has a floral shirt or dress in their wardrobe. Hawaiian shirts and colorful dresses add color to the landscape. Already you have removed the stuffiness associated with more formal weddings. Plus, your guests won't fret over what to wear.
Greet your Guests with Leis
Have a few children dressed in grass skirts greet your guests while placing flower leis around their necks. In Hawaii it is customary to give leis as a symbol of love, respect and appreciation. For weddings, the entire wedding party warrant leis. Fresh leis are not necessary, if your budget is tight. You can find inexpensive ones on the internet made from silk flowers and shells.
Decorations
Decorate lavishly with exotic flowers, like orchids, asiatic or gloriosa lilies, pincushion proteas and hibiscus. Silk plumeria blooms, silk laua ferns, and silk leis can also be used. Continue the use of flowers for table decorations and to add touches to the wedding cake.
Tiki torches are a must-have for any tropical setting. Consider lining the outdoor processional path with tiki torches. You can find them in home improvement stores and seasonally in the patio section of stores.
Music
Whether you hire a live band, a DJ, or just play a CD, use romantic Hawaiian music as background music before and after the ceremony. Choose your music selections - even the Hawaiian Wedding Song can be played as the bride walks down the isle instead of the typical Wedding March.
Food
With a little luau food, your Hawaiian theme is complete. Whole fresh pineapples make interesting centerpieces for tropical weddings. Fruit kebabs serve both as refreshment and table decor. Consider featuring common foods used for an island luau like pork, rice, pineapple, and coconut desserts on your buffet. You might consider a candy buffet featuring exotic candies and flavors like Island Punch Jelly Belly beans.
The Wedding Party
There is no rule of etiquette to follow when choosing the attire for the wedding party. Some choose floral dresses for the ladies and either Hawaiian shirts and slacks or colorful polos and shorts for the guys. Others choose opt for the more traditional bridesmaid dresses and formal tuxedos for the gents. Formal or informal, the decision is up to you.
The bride may choose to wear a lei on her head instead of the traditional veil. The head lei, know as a haku, is a crown of flowers that sits on the bride's head. A veil attached to a hair comb can be added to the haku to include both traditions.
Another Hawaiian touch - have the flower girl drop silk plumeria blooms from a beach pail instead of dropping the traditional rose petals from a basket.
Remember, there is no right or wrong, proper or improper way to create your Hawaiian themed wedding. For a themed wedding that is fun and informal, an Hawaiian wedding is a great choice, no matter what the location.
Related Items