NASCAR Tailgating
From Giftypedia
[edit]
Tailgating NASCAR Style!
Trivia
Are you a true NASCAR fan? If you are, then you have already taken off work the day after the race - just in case of rain!
Did you know? Some NASCAR drivers practice on Playstation to get the feel of the track before the race. The video game is a track reference for different stadiums, giving the turns - they call it "hitting the mark!"

NASCAR is hailed as the fastest growing sport in America and the fans really know how to tailgate. If you have ever been to NASCAR race, you know that the action outside the grandstand is as exciting as the action inside the grandstand. Many fans without tickets to the race go just for the tailgating. Say what you will about the NFL or college football, but NASCAR tailgating has grown larger than any other tailgating sporting event.
A NASCAR parking lot is like no other tailgating party. As far as you can see there may be as many as 200,000 fans in RVs, SUVs, trucks and campers all crammed together in their makeshift communities. They bring food and drink, games, grills, TVs – anything and everything to make themselves comfortable. If your plans include tailgating before the race, following these tips will help to assure a wonderful NASCAR tailgating experience:
Nascar Tailgating Tips
Do Your Homework
Call or visit the website of the specific venue for the NASCAR event. Each raceway has their own rules regarding tailgating. While it may be permitted to take food and drink (not glass bottles) into the stadium, there may be a size limitation on coolers. Seat cushions that have a zipper and unfold as a blanket are great for stashing snacks to take into the race. It pays to know the rules and will avoid unnecessary inconveniences. Check your ticket - the restrictions are sometimes in fine print on the back.
Arrive Early and Plan to Stay Late
Prepare to arrive at "o'dark thirty." Arriving early will help to avoid traffic congestion. If possible, ride out to the track the ahead of time and scope out a good spot near a Port-o-Potty and trees for shade. Expect to stay late as thousands exit the race at the same time. Planning to tailgate after the race will help to kill time.
Overestimate for Food and Drink
Have plenty of food and drink – you don't want to run out! Plan for unexpected guests, even free-loaders. Bring your beer and food with you in order to avoid price gouging. Many places close to the tracks jack up their prices on food and drink. Bringing your own liquor will also avoid the mistake of finding yourself in a dry county.
Donation Box
Don't put yourself in the position of having to ask someone to chip in for the cost of food and drink. Instead, put out a donation box. People will generally respond with a donation to cover what they consume.
What to Wear
Your favorite driver's team colors are in order but don't wear anything nice. Depending on your seat location, you may find yourself covered in dust and tiny particles of rubber. And don't forget the earplugs! Those not accustomed to the noise level will need them.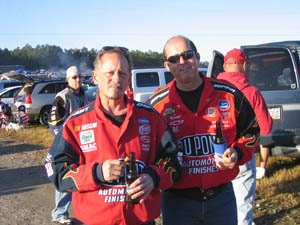 Don't Forget!

Earplugs or noise reducing headphones
Sunscreen
Portable chairs
Shelter to block out sun or rain
If you bring kids, a portable potty is a good idea for emergency
Plenty of trashbags
Leave valuables at home
[edit]
Taking the Kids Along
If you plan to take the kids along, remember that watching cars driving in a circle for several hours can be boring to a child. Take games the kids can play in the parking lot or in the field to burn off some energy - horseshoes, a football, a soccer ball and some board games in case of rain. Pack plenty of snacks and drinks for tired kids.
NASCAR events are well organized. There are designated RV lots, areas for overnight camping in tents, multiple fields and parking lots for tailgaters. There are shopping venues where loyal fans purchase t-shirts, jackets, hats, visors, even pit crew jumpsuits of their favorite drivers. Complimentary buses with scheduled stops shuttle fans around the track to various venues, stadium entrances and back to their respective areas. A large staff is on hand to direct traffic and for security.
People just like to have fun and NASCAR fans have a friendly reputation. Tailgaters greet and meet their neighbors sometimes forming long lasting friendships. Along with NASCAR flags, fans fly their respective NFL or Collegiate flags displaying their allegiance.
From the Fly Over before the race, to the Start Your Engines, to the finish line, everyone should experience NASCAR at least once!
[edit]
Related Links