College Football Tailgating
From Giftypedia



[edit] Tailgating in the College Football Tradition

Can't get tickets to the big game? Never fear - college football tailgating season is here! Time for the ultimate party with the reputation for parking lot mayhem and beer consumption. Once a game day experience, college football tailgating with alumni, fans, friends and family is now an all weekend affair.
[edit]
Land Rush
It begins with a mad dash before the big game to stake out the best spot for the college tailgating party. Tables, chairs, carpets, grills, and TVs are considered standard equipment to make the most of the weekend. Some tailgaters don't plan to leave until late Sunday. Collegiate sports enthusiasts are very serious about their tailgating.
TIP: Be sure to review the individual college's tailgating policy involving designated areas where you can tailgate, specific times when you can set up and, of course, boundaries for alcohol consumption.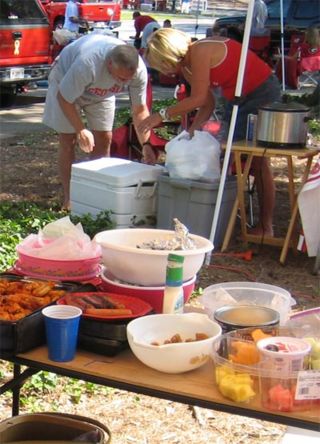 [edit]
Tailgating In Style
Collegiate fans have taken the art of tailgating to such extremes that, in many cases, it is the preferred way to watch the game - even over stadium tickets. The more "well-funded" show up in RVs equipped with all the comforts of home. They are crammed into parking lots and on every spare inch of grass forming their own little communities. Tailgaters bring along portable grills, smokers and equipment worthy of an outdoor kitchen.
Tailgating has entered the high-tech era. That familiar humming sound you hear throughout the tailgating areas stems from generators powering TVs tuned to satellite dishes, air conditioning, lighting and refrigerators. Large flat screen TVs are sprinkled throughout the landscape.
Even the more modest tailgaters sport tents, banners and food spreads to rival the best restaurants. Their coolers have wheels and their lawn chairs recline. Their parties revolve around themes with collegiate apparel the appropriate attire not only for themselves, but
for their pets
as well. Yes, even pets are invited!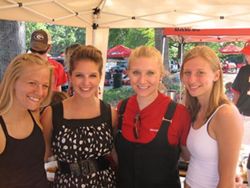 The price of gas and distance traveled is of little concern. Fans and alumni travel with children and babies in tow. Gone are the days of picnic lunches on tailgates of station wagons and trucks.
Competition brews among tailgaters – each lays claim to the best food, the best theme, the best décor and, of course, the biggest party. The Florida-Georgia game in Jacksonville, Florida, is known for having the world's largest tailgating cocktail party.
College football tailgating is all about having fun – a great excuse for a party while cheering your team to victory. Happy tailgating!
[edit]
Related Links