Tailgating at Home
From Giftypedia
Today's economy and high gas prices are forcing many to re-prioritize activities, perhaps even postpone vacations. But missing out on cheering their favorite team to victory? Simply not an option. So pass on those pricey tickets and eliminate the extra gasoline for travel - you may not be tailgating in the parking lot but you sure can have a tailgating party. And it's cheaper, too!
More and more Americans are tailgating at home with friends and family. The view from their high-def 60" TV makes them feel like they are at the game. And for the guys – a perfect excuse to upgrade the home TV (or even purchase several to view multiple games simultaneously). The seats are "comfier" too – there is no comparison between a recliner and a stadium seat! Plus, no need to transport coolers, grills and other cumbersome equipment in their cars. Unlike tailgating in a parking lot, a tailgate party at home expands your options. With easy access to the stove, microwave and refrigerator, you can feature food beyond the traditional tailgating menu. And did we mention restrooms?
Tailgating Party Tips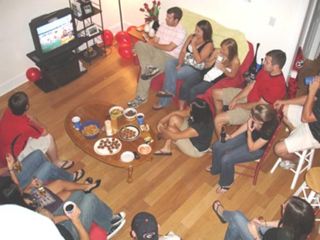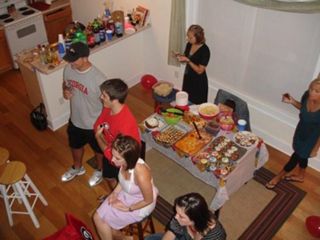 Pregame
Consider setting up tents in the back yard. Have a pregame party outside near the grill so the host can cook and party with friends at the same time. Plan some games - touch football is great fun for pre-game entertainment. Don't forget the kids! Setting up a table with face paint of game colors is a fun way to entertain kids and adults alike.
No Knives or Forks Required
Enthusiasm should not be suppressed, even in your living room! Keep foods simple. Foods like sandwiches and wings make it easy for guests to grab a bite and make it back to the TV before the next play. Finger foods allow guests to jump up and down and cheer for their team without forks and knives going airborne. Fill bowls with popcorn, pretzels and nuts and place on tables throughout the viewing room
Drinks for Everyone
The traditional drink for tailgate parties is obviously beer, but make sure you have sufficient soft drinks and bottled waters. Fill several tubs with a variety of drink choices. Ice the drinks down and place at strategic locations on the porch or patio. You might consider adding a few bottles of wine to your drink list for those discriminating female fans.
Decorations
No need for elaborate decorations. Turn the decorating over to the kids by providing a craft table with colored paper, glue, scissors and markers. Or, instead of a tablecloth, cover the food table with white or brown paper. Scatter markers on the table for guests to scribble cheers or words of encouragement for their favorite team.
Don't Forget!
Make sure you have enough seats to comfortably accommodate all of your guests and the TV screen is clearly visible. If weather permits, consider moving the TV outside to the patio for more room and that authentic tailgating atmosphere. Make sure there is enough space in the refrigerator for extra food and beverages your guests may bring. Remember to purchase extra large trash bags and...don't forget to dust the TV!
Whether tailgating at home or tailgating in a parking lot, tailgating is here to stay. From Super Bowl Sunday to Nascar races, or even planning a Sports Themed Couples Baby Shower, the ingredients are the same: food, fans and a sporting event. So join in the fun of the fastest-growing American sport - tailgating, as American as apple pie.
[edit]
Related