Tailgating Tips and Etiquette
From Giftypedia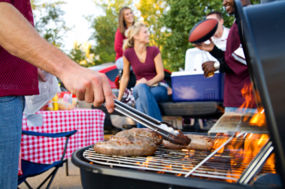 Tailgating is a celebratory social event that can be done in the stadium parking lot of your favorite team or even in your backyard, and has become a popular ritual before college and professional sporting events. Tailgating parties have developed from simple celebrations into elaborate events that fans have developed into an art form. If you feel as though your tailgating skills are no match for the hard-core veteran tailgaters then here are a few tips and tailgating etiquette that will make you "Tailgater of the Game".
Tip #1 Put Together a Game Plan

When planning your tailgating event check the tailgating rules and regulations for the venue. Most arenas and stadiums have rules on alcohol consumption, the use of grills, when lots open, tents, the use of propane heaters, and much more. Knowing these rules ahead of time will make sure that no penalty flags are thrown during your tailgate party.
Tip #2 Prepare for the Pre-Game

Make sure that you have a list of the items that you want to bring with you, and check off the items as you pack. Pack your car the night before with non-perishable food, tables, chairs, trash bags, paper products, toilet paper, and all other supplies. Bring along enough tables and chairs so everyone can be comfortable, you may want to suggest that guests bring own chairs. Make sure to bring enough food you want to have more food than you need just in case you have extra guests or for building friendships with other tailgaters by sharing your food. When buying food for your party remember your guests, make sure that you have the traditional crowd pleasing food items along with items that kids will enjoy, and be courteous don't forget those that are dieting and the vegatarians. Be prepared for anything by bringing along a first-aid kit, sunblock, rain gear, and some antacid.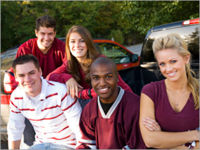 Tip #3 Be an Early Bird

You may want to visit the game location ahead of time to stake out the good parking spots. If the venue has parking lot restrictions make sure you are there when the lot opens to find the perfect parking space. Try to find parking at the end of a row these spaces give you more room. Check with the stadium about RV parking these spaces are harder to get as many venues sell parking passes, typically there is a long waiting list, and these spaces are know to be held by the same groups for several years. Whatever the time restraints are on the parking make sure that your arrive no later than 3 to 4 hours before game time. Be courteous to veteran tailgaters by talking to parking attendants and other tailgaters you do not want to take a spot where a group has been tailgating for years.
Tip #4 Design Your Space

A good tip for tailgaters when staging their space is to try to combine the comforts of home and support for their team. When setting up your space remember that you need plenty of space to cook and serve food easily. Decorate your tailgating area with team pennants and flags, and other team items.
Tailgating Etiquette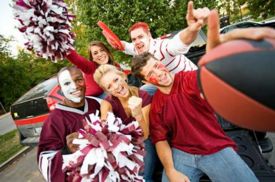 Be a Responsible Drinker
Always appoint designated drivers before leaving for a tailgating party.
Do not over drink and act stupid and out of control. Being the stupid drunk ruins the game for everyone!
Make sure to have a variety of non-alcoholic beverages available for the designated driver and those who do not drink alcohol.
Make sure to obey the law. If you are confronted by police officers be respectful and no arguing.
Do not buy glass bottles they can be dangerous if broken and your clean up will be easier.
Be a Kind Tailgater
Be a friendly tailgating neighbor.
Always lend a helping hand. Helping out fellow tailgaters can lead to great friendships and typically a reward of food and beverage.
Be a friendly tailgater by being open and welcoming others to your party.
Do not be a litter bug bring plenty of trash bags and always clean up all your trash.
Gas or charcoal grilling will be a debate that will continue until the end of time, but what to use for tailgating will be up to the rules and regulations of the venue. If you are using a charcoal grill do not dump hot ashes in the parking lot, dispose of the properly. Place ashes in some heavy duty aluminum foil, then douse the ashes with water before placing them in a noncombustible receptacle.
Be a Grill Master
Remember food safety and keep raw meat in a separate cooler and do not take out until it is time to grill. Cook all meat thoroughly.
Do not scoop ice with your hands, and do not leave food sitting out for more than two hours.
Remember to bring zipper storage bags. These bags are great for marinating, storing left over food and will make cleaning up easier.
Food should be ready at least an hour and a half before the game this will give you plenty of time to eat and get your area cleaned up.
Make sure you have soap, water, and paper towels on hand to keep hands clean during cooking and for after you eat. To make it easier you may want to bring wet soapy paper towels in a zipper storage bag to clean hands.

Tip for Tailgating Guests
Always RSVP in plenty of time so that the host will have plenty of time to prepare, and always contribute by offering to bring food or chipping in some money.
[edit]
Related