RV Tailgating
From Giftypedia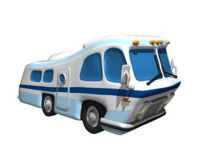 Tailgating usually brings to mind images of guys with pickup trucks parked in parking lots with chairs and coolers full of melting ice and a long line of portable restrooms. This may be true of most tailgaters but not for RV tailgaters. RVs take tailgating to a whole new level. There is no worry about ice melting or a place to heat up snacks. Extra bonuses of RV Tailgating is no standing in line for the restroom and a roof over your head no matter the weather.
RV tailgating lets you meet new people. With "backyards" that are not separated by privacy fences people are more likely to say hello to their tailgating neighbors than they are the people they live next door to.
[edit]
Tips for RV Tailgating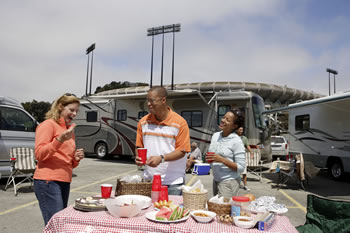 Avoid Traffic – Plan to get to the game early. You are going to want a prime parking place, one at the end of a row near grass. Plus you are going to want plenty of room to open up your awnings and set out chairs. Since you are tailgating in an RV you can stay late. While everyone in cars are trying to leave you can enjoy leftovers and spend some time going over the highlights of the game
Cooking – You cannot have a tailgate party without food. The great think is you have everything with you including the kitchen sink plus no standing outside on the hot parking lot. You can have cold beverages and hot food. Anything you can fix at home can be fixed in the kitchen of an RV. Plus when you are done you can safely store any leftovers in the refrigerator.
Clean up - When you are done follow tailgating etiquette and before heading out make sure you don't leave a mess. Carry several large garbage bags with you to pick up the surrounding trash. Also take the trash with you, don't leave the bags on the side of the parking lot. Someone has to remove the trash and if you leave it for someone else to do tailgaters may not be welcome backed.
Know the Rules - With the popularity of tailgating many stadiums have rules concerning tailgating. Many stadiums have a special parking area for RV tailgating. Stadiums may even have set times the parking lots open and close. The times may be a set time of day or number of hours before kickoff and after the finish of the game
Decorations – You cannot forget your favorite team. Place a team flag on top of the RV for everyone to see. That way there will be no doubt who you are rooting for.
[edit]
Related Links