Tailgating Fanatic
From Giftypedia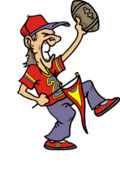 Do you know a tailgating fanatic? Odds are, you do. They come out of nowhere and swarm outside of football stadiums, baseball stadiums, parking lots of Nascar races and other sports events. They come bringing the ultimate in tailgating supplies and sport the latest in team merchandise.
No tailgates required!
Extreme tailgaters have definitely amped up the affair with the latest in technology – LCD TVs are hooked to Satellite Dish Sports packages, luxury RVs are painted in game colors and caterers are busy delivering specialty foods. Sound like fun? To join in the fun of extreme tailgaters, you must fit the profile. You don't want to be a rookie!
You may be a Tailgating Fanatic, if…
You are a "Wanna-be" Athlete
Your car horn plays your team's Fight Song
You recognize Four Seasons – Football, Baseball, Nascar. and Concert Season
You own your own Beer Dispenser machine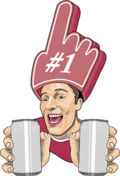 You have a Countdown Calendar to football season
Your opposing team's mascot is tied to your car
On Game Day your shirt is painted on
You own a Portable Satellite Dish
Team Apparel dominates your wardrobe
You enjoy taunting the fans of opposing teams
You never accept defeat!
Gift Ideas for Your Tailgater
Need a gift for your tailgating fanatic? Whether for the Super Bowl, College Game Day, a special occasion or just a host/hostess gift, the possibilities range from the extravagant to the very inexpensive: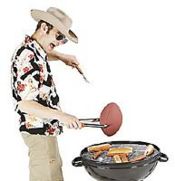 Tent, Gazebo or Canopy with Team Logo
Aluminum Outdoor Folding Table
Folding Travel Chair
Grilling Tool Set
Chef Apron and Mitt
Tailgating Games
Wheeled Coolers
Cooler Chair
Vinyl Tablecloth
Portable Heater for cooler climates

Grilling Cookbook
Party Ice Tub
Margarita Machine
Team Flags and Banners
Outdoor Carpet
Hand Crank Blender
Bottle Opener
Related Links