Budgeting for Holiday Season
From Giftypedia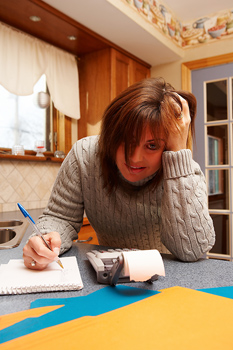 Avoid the Holiday Jitters
If you are one who counts how many paychecks are left before Christmas, or are still paying for holiday spending in March, then you might be a candidate for a holiday budget. In order to enjoy a stress free holiday, financial strain must be eliminated - and that requires planning and discipline.
Remember those Christmas Club accounts offered by financial institutions? Remember lay-away? The answer, although seemingly old-fashioned, is simple: The best way to deal with this annual expense is to simply budget for it. After all, these are not surprise expenses!
Holiday Budget Tips
Shop online to avoid being seduced by the season. Music, decorations and atmosphere are purposely created in stores and malls to tempt you to over-spend.
Shop early. Coordinate with family and friends your plans for the next year. If you draw names, draw early in the year. That way you can keep your eyes open for gifts all throughout the year and spread the cost over many months to help keep your finances under control.
If you must use a credit card, consider charging the purchases on a rewards card for the % back and pay the balance in full in January.
Open a Christmas Club account and contribute monthly. Or, set up an automatic withdrawal from your bank account to go into a savings account for holiday spending.
Cash in credit card rewards from credit cards for gifts.
Reduce expenses by drawing names, planning a gift exchange game like a Yankee Swap or Dirty Santa. This not only saves you money, but adds entertainment value as well.
Hidden Expenses During the Holiday Season
Most everyone can relate to the holiday season's financial impact. Setting up a holiday budget ahead of time is a great idea to keep from being caught off-guard which January's credit card statements.
When doing this, it's helpful to remember that buying gifts is only part of your holiday expenses. When budgeting for holiday season gift giving, be sure to also remember the hidden expenses typical for this time of the year...
Hidden Holiday Expenses
Company Christmas Party – new outfit, getting hair done, getting nails done, cash bar
Breakfast with Santa for the kids
Photos with Santa for the kids
Going to see the Nutcracker, a Christmas Light Tour, or other traditional holiday outings
Baking cookies or making candy
Decorations for inside and outside the house (outside lighting can get very competitive between neighbors)
Christmas Tree
Stocking Stuffers
Cases of Liquor or Wine for entertaining
Travel

Gift giving mistakes can put a strain on your holiday budget and create undo stress. Learn how to avoid the top 10 holiday mistakes and to use a little preparation to make the holiday shopping season go a little smoother. Keep in mind that most people cannot remember from one year to the next what gift they received. After all is said and done, it is the family traditions that are remembered.
Related Guides