Tips for Shipping Packages During the Holiday Season
From Giftypedia
With the rush of the holiday season shipping gifts can be one more item on your to do list. This can add to the stress of the holiday season. These few simple tips can help you make sure your gift gets there in one piece and on time.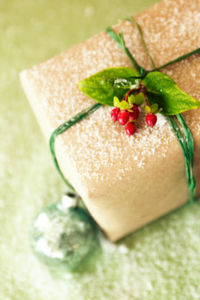 Don't procrastinate. The longer you wait to ship a gift the more it will cost you. Plus you run the risk of the gift not getting to it's destination in time. If you wait too long the cost of shipping your holiday gifts could be more than the actual gift itself. Many shipping companies will post deadline dates for holiday shipping on their websites.
Shop online. Online retailers will pack and ship the gift for you. Many online retailers offer gift wrapping service. This allows you to include a personalized message with the wrapped gift. Make sure to check the retailers shipping deadline. Plus remember if you order on the weekend your order won't ship until the next business day.
Find alternate shipping centers. If waiting in line at the post office is not high on your list of things to do remember that many office supply stores offer shipping services with less hassle. UPS and Fed Ex Office will not only ship your packages but will pack them also.
Insure Your Packages. If you are sending a high dollar gift then make sure you purchase insurance. Check with your insurance company about insurance since most shipping companies set a limit on claim amounts. Also don't put anything on the outside of the package that will let anyone know what is in the shipment.
Pack Gifts Together. If you have multiple gifts going to the same address pack the gifts in the same box. You can place the individually wrapped gifts in the box with proper cushioning to protect more fragile gifts. This will not only save you the time of individually boxing the gifts for shipping but will cut down on the shipping cost of individual boxes.
[edit]
Preparing Gifts for Shipment
Use a Corrugated Box. Make sure the box you use for packing and shipping holiday gifts is new. The more times a box is used it looses it's protective qualities making it easier for the gift to be damaged during shipment. If reusing a box make sure there are no holes, rips tears or corner damage and all flaps should be intact. Remove all labels from the box, if you cannot mark out the label and any writing with a black marker.
Check the Size of the Box. You want to chose one that is big enough to hold the gift you are shipping and allow for packing material but not so big you have a lot of extra room. You don't want the gifts to move around during shipping.
Provide Internal Protection. It is important to cushion contents. Fragile gifts need separation from each other and clearance form the corners. Each item should be separated by 2 inches of cushioning and be 2 inches from the sides of the box.
Use Proper Cushioning Material. Cushioning material is used to protect the gifts during shipment . Use enough so contents don't move when you shake it. Do not use clothing, blankets or pillows as cushioning material. Prepare for the box to be dropped from at least 3 feet when adding cushioning material.

Bubble wrap is designed to protect and cushion light weight items. When used in multiple layers it ensures the gift is protected.
Air bags are void fill material – Don't use with objects that have sharp corners or edges. Extreme temps may affect the ability of airbags to protect the product.
Peanuts are void fill material for lightweight items. Do not use with flat or narrow products that may move to the edge of bottom during transit.

Crumple paper void fill material for light to medium weight non fragile items. Paper must be tightly crumpled.
Close Container Securely. Seal with clear or brown packing tape. Apply 3 strips to the bottom and top of the package. Do not use duct tape, cellophane tape, or masking tape to seal a box. Never use string or twine to seal a package. The twine can become stuck in the sorting machinery causing damage to the gift.
Label Properly. Make sure to clearly label the outside of the box with the ship to address. If handwriting the label be sure to print clearly. Printing a shipping label makes the label easier to read and lessens the chance of the gift getting lost in shipment. Also put a copy of the shipping address inside the package. If the package should come open or the outside shipping label lost this gives you a backup.
Use Caution When Sending Gift Cards. If you're sending gift cards through the mail, it's best to use a padded envelope or small box rather than placing them directly into a standard envelope. Sticky fingers have been known to get inside these less secure mailers, and the recipient never knows a gift card(s) was once inside!
These tips will help you save time will help make sure you gift gets there safely and in time for the holiday season.
[edit]
Related Guides