Toilet Paper Wedding Dress
From Giftypedia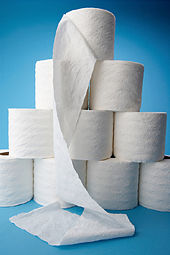 Type of Game: Bridal Shower Game
This is a very popular bridal shower game. Divide the guests into teams of three. Each team is given four rolls of white toilet paper, and is given twenty minutes to design a wedding dress. Each team chooses a "bride" and then proceeds to design the dress and wrap the "bride" within the allotted time.
Each team bride is then paraded in front of the guests and votes are taken to determine the prettiest bridal gown. A gift is then awarded to the chosen "bride" and her design team. If the party is small everyone will wrap up and design a bridal gown for the actual bride.
More Bridal Shower Games...
Related Articles